Fighting Seventh
Profile
Miscellaneous
No Atheists
In A Foxhole
Rudyard Kipling" "When you're left wounded on
Afganistan's plains and

the women come out to cut up what remains,
Just roll to your rifle

and blow out your brains,
And go to your God like a soldier"

General Douglas MacArthur" "We are not retreating. We are advancing in another direction."

"It is fatal to enter any war without the will to win it."
"Old soldiers never die; they just fade away.
"The soldier, above all other people, prays for peace,
for he must suffer and be the deepest wounds and scars of war."

"May God have mercy upon my enemies, because I won't ."
"The object of war is not to die for your country but to make the other bastard die for his.

"Nobody ever defended, there is only attack and attack and attack some more.
"It is foolish and wrong to mourn the men who died.
Rather we should thank God that such men lived.

The Soldier stood and faced God
Which must always come to pass
He hoped his shoes were shining
Just as bright as his brass
"Step forward you Soldier,
How shall I deal with you?

Have you always turned the other cheek?
To My Church have you been true?"
"No, Lord, I guess I ain't
Because those of us who carry guns
Can't always be a saint."

I've had to work on Sundays
And at times my talk was tough,
And sometimes I've been violent,
Because the world is awfully rough.
But, I never took a penny
That wasn't mine to keep.
Though I worked a lot of overtime
When the bills got just too steep,

The Soldier squared his shoulders and said
And I never passed a cry for help
Though at times I shook with fear,
And sometimes, God forgive me,
I've wept unmanly tears.
I know I don't deserve a place
Among the people here.

They never wanted me around
Except to calm their fears.
If you've a place for me here,
Lord, It needn't be so grand,
I never expected or had too much,
But if you don't, I'll understand."
There was silence all around the throne

Where the saints had often trod
As the Soldier waited quietly,
For the judgment of his God.
"Step forward now, you Soldier,
You've borne your burden well.
Walk peacefully on Heaven's streets,
You've done your time in Hell."

Proud To Have
Served With Warriors
Foreign Bloggers
&
Other Stuff
Gaming
Major D Swami

WITH Lt Col Ivan Lee
Click Here
Lt Col Ivan Lee
you want him with
you in a firefight!!!!
Dying Warrior
Condors-Infantry
Fighting Vehicles
xxxxxxxxxxxxxxx
Camp
Bujang Senang
Click Here
xxxxxxxx
The A Team
Click Here
xxxxxxxx
Major General
Toh Choon Siang
Click here
Lieutenant General
Stephen Mundaw
Click Here
With His
Dying Breath
Killed in Battle
In Death
Last Thoughts
Before Battle
Whilst There Is
Life, There Is Fight
Iban Trackers
XXXXXXXX
Facts On RoP
Hutang Negara
Advertistment
XXXXXXXX
Advertistment
XXXXXXXX
Advertistment
XXXXXXXX
Advertistment
XXXXXXXX
Advertistment
XXXXXXXX
Advertistment
XXXXXXXX
Advertistment
XXXXXXXX
Advertistment
XXXXXXXX
Advertistment
XXXXXXXX
Advertistment
XXXXXXXX
Advertistment
XXXXXXXX
Advertistment
XXXXXXXX
Advertistment
XXXXXXXX
Advertistment
Advertistment
XXXXXXXX
Advertistment
XXXXXXXX
Advertistment
XXXXXXXX
Advertistment
XXXXXXXX
Advertistment
XXXXXXXX
Who really runs Malaysia? By Mariam Mokhtar
Friday, June 17, 2022
Malaysiakini : His administration is a mix of confusion, U-turns, dithering and panic. It does not look like he's in control.
On the other hand, the convicted felon, Najib Abdul Razak, is trying his best to become relevant. He probably has more column inches than Ismail Sabri and makes more suggestions about running the country than the PM. Of course, Najib is desperate to delay an early arrival at Sungei Buloh, so he will do his best to cultivate an image that only he can provide political stability.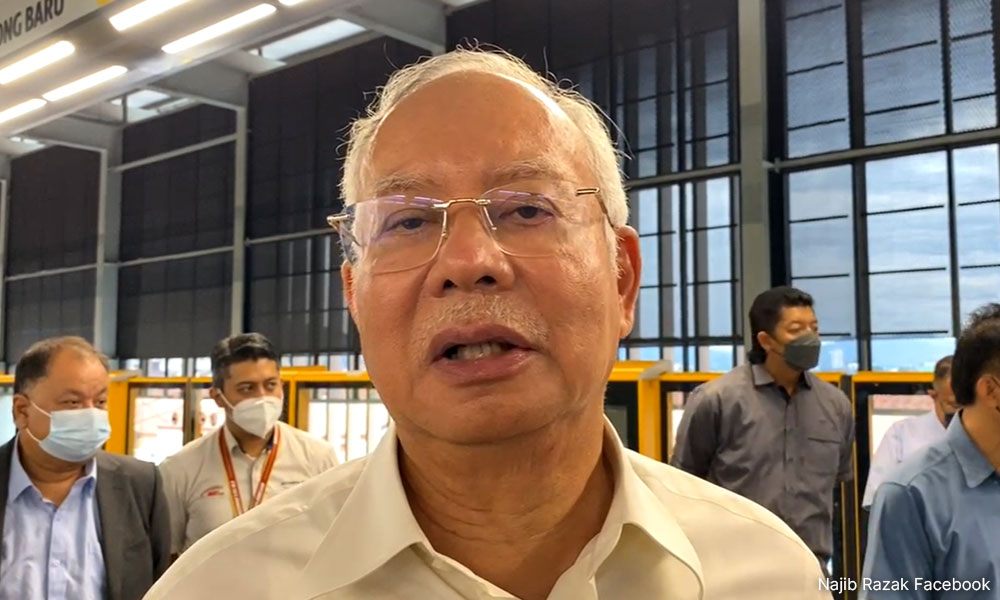 The Malaysian rakyat is more obtuse than we think if they reckon Najib's return to power will provide economic stability and prosperity.
If Ismail Sabri wants to be a true hero, he needs to do only one thing: Throw Najib in jail, now! Stop pussyfooting and stop the charade of "justice must be seen to be done".
Najib stole from the Malaysian rakyat, and has been convicted and sentenced for his role in the SRC International scandal. He is teasing the nation and he knows that the longer he delays his admission to Sungei Buloh, the more confused and weary we become.
Waiting for him to enter prison is like the cancer patient awaiting treatment. After several postponements, the cancer will have spread and nothing can be done to save the patient.
Najib has been tried and sentenced. To the ordinary man in the street, many think that it is an error of judgment that he was not jailed immediately. They believe that he can always lodge his appeal from prison. They are fearful of the damage that he has now inflicted on society.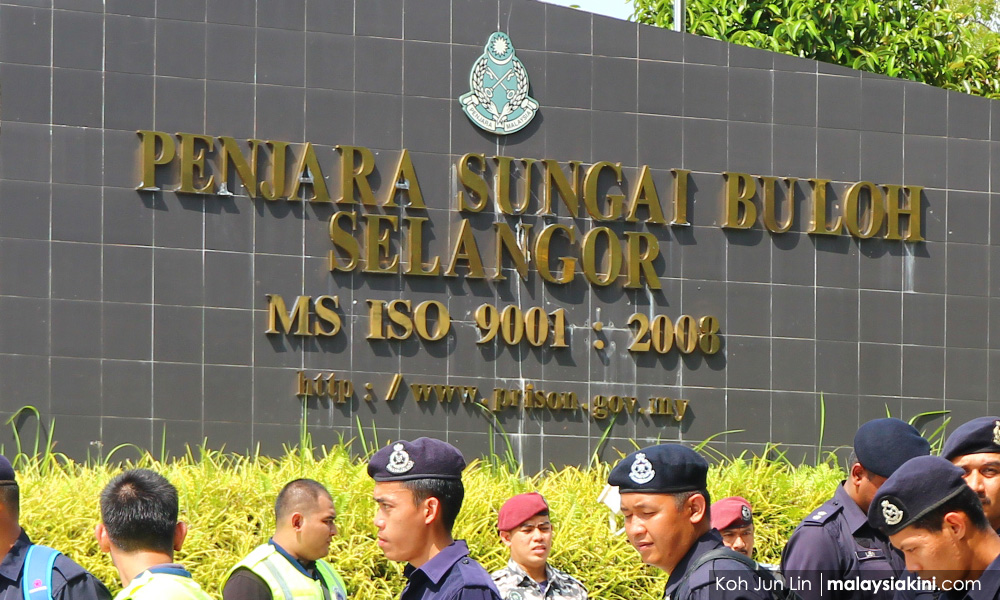 There is a distinct decline in morals and ethics in public life, when kings and CEOs give Najib faces. These so-called learned and enlightened individuals treat Najib as if he has done no wrong. This is a stain on our society. Is this how they want the world to view the Malay? Someone who lacks integrity, is devoid of principle and has no value?
Najib is a disgrace to decent law-abiding Malaysians. He has a corroding influence on society. The palace advisors are at fault for giving the wrong advice to the king. Are they blind? Their failure has incurred the wrath of the rakyat. Najib is a common thief who has robbed our children of their futures. The advisors are guilty of a dereliction of duty.
From the time Mahiaddin Yassin staged his Sheraton Coup, he has failed to "Save Malaysia" despite his promise.
Today, the Sultan of Johor is furious that his state is treated like an "anak tiri" (step-child) despite Ismail's insistence that no one will be forgotten in "Keluarga Malaysia".
Twenty-eight months since Sheraton, the country is falling apart.
Three months ago, one simple image showed Malaysians a taste of what's to come. It's a photograph of the victory line-up at the Umno-Baru headquarters in Johor, when the results of the state election were announced.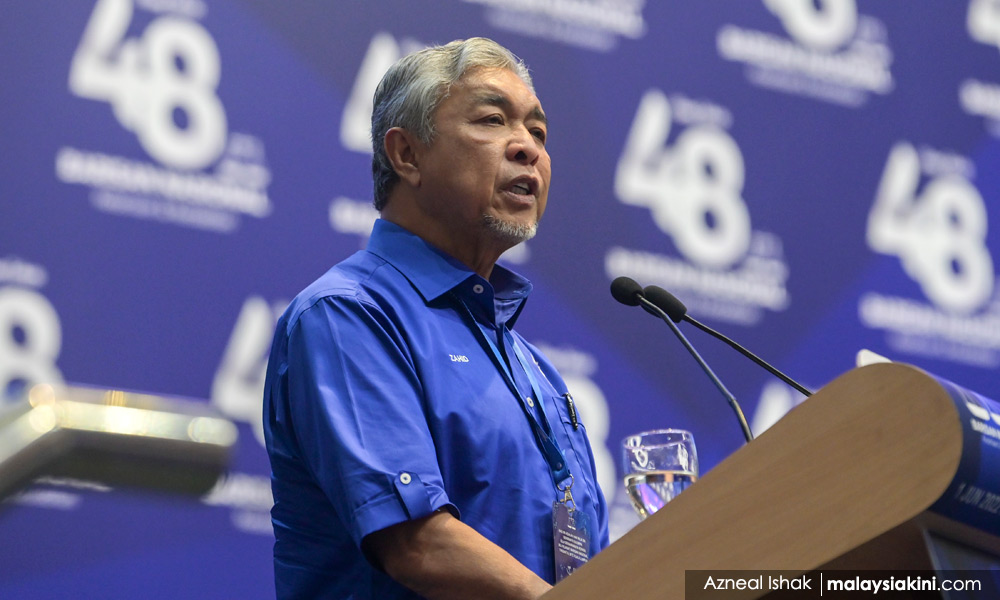 Moments before the photo was taken, the Umno-Baru president, Ahmad Zahid Hamidi, was frantically searching for one person among the crowd.
When he spotted him, he grabbed the PM, Ismail Sabri, by the elbow and edged him out of the way, before yanking the convicted felon, Najib, to the front of the stage.
Now, three months later, PN and Bersatu MPs anxiously concede in private that as much as Ismail Sabri's supporters don't want to have to admit it, Najib will return as PM because Ismail is so weak.
Despite Ismail's dysfunctional administration, there is a pathetic lack of a functioning opposition.
Despite all the hype about giving the youth the chance to shape the future of the nation, Opposition Leader Anwar Ibrahim refuses to vacate his position - and is still clinging on to hope that he will occupy the PM's seat.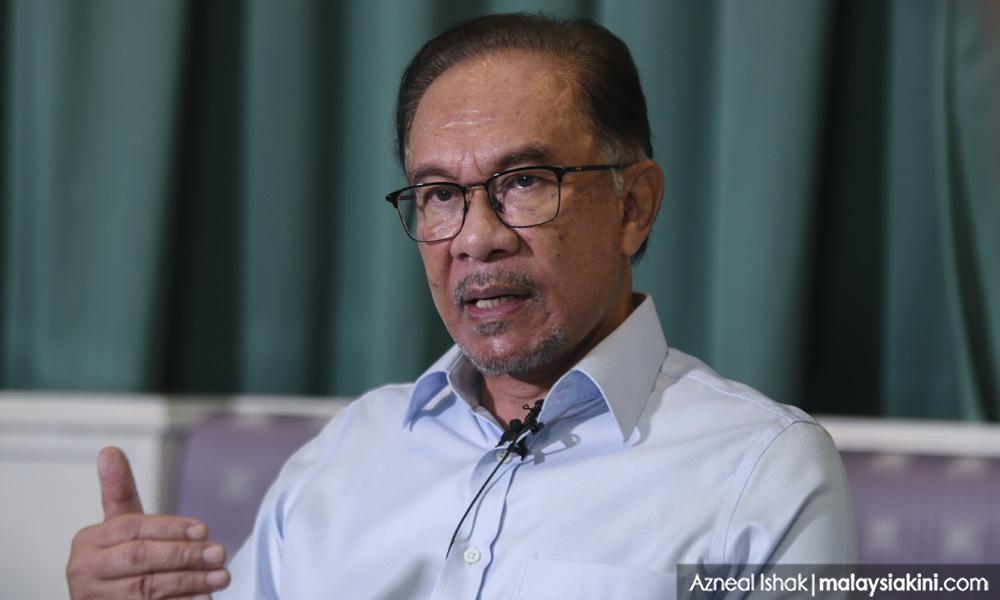 The hope and promise of May 2018 ended with everyone, Harapan MPs included, hanging on to power. They failed to deliver.
Under normal circumstances, with a very weak government, the Opposition should be able to take over, but not this time.
There is an ugly mood in the air because Ismail Sabri has failed the nation.
The rumblings of discontent are growing louder. Sabah, Sarawak, and now Johor have threatened secession. It won't be long before others follow suit.
Many of us suspected that the day would come, when PAS, Jakim and the Perlis mufti would openly defy the royal houses. We didn't think it would be over a dance festival.
The irony is that all this while, PAS and Umno-Baru said that only they could protect Malay rights and defend Islam. Today, they are directly responsible for denigrating Islam in the eyes of many people, including the Muslims, as well as causing deep divisions among the rakyat.
The buck stops with the prime minister! Get a grip, IsmailSabri, or go!
posted by Major D Swami (Retired) @ 11:41 AM

ARCHIVES
Previous Post
Indian Soldiers
World War 1
Links To Rangers
Military Related Links
End of a Saracen
East Malaysian
Warriors
Blow Pipe
xxxx
xxxx
Lieutenant Colonel
Zulkapli Abdul Rahman
Click Here
Lieutenant Colonel
Harbhajan Singh
Click Here
Heads from the Land
of the Head Hunters
Heads
20 Harrowing Images
Vietnam War
Creme De La Creme-Click here
Lt Col Idris Hassan
Royal Malay
Regiment
Click Here
Also Known as
General Half Track
Warriors
Dayak Warrior
Iban Tracker with
British Soldier
Showing the
British Trooper
what a jackfruit is!!
Iban Tracker
A British Trooper training
an Iban Tracker
Iban Tracker
Tracker explaining
to the British Soldier who
knows little about tracking
Iban Tracker
Explaining to the
British Trooper the meaning
of the marks on the leaf
Iban Tracker
Aussie admiring
Tracker's Tattoos
Lest We Forget Major Sabdin Ghani
Click Here
Captain Mohana Chandran
al Velayuthan (200402) SP
Ranger Bajau
ak Ladi PGB
Cpl Osman PGB
Advertistment
XXXXXXXX
Advertistment
XXXXXXXX
Advertistment
XXXXXXXX
Advertistment
XXXXXXXX
Advertistment
XXXXXXXX
Advertistment
XXXXXXXX
Advertistment
XXXXXXXX
Advertistment
Advertistment
XXXXXXXX
Advertistment
XXXXXXXX
Advertistment
XXXXXXXX
Advertistment
XXXXXXXX
Advertistment
XXXXXXXX
Advertistment
XXXXXXXX
Advertistment
XXXXXXXX
Advertistment
Advertistment
XXXXXXXX
Advertistment
XXXXXXXX
Advertistment
XXXXXXXX
Advertistment
XXXXXXXX
Advertistment
XXXXXXXX
Advertistment
XXXXXXXX
Advertistment
XXXXXXXX
Advertistment
XXXXXXXX
Advertistment
XXXXXXXX
Powered by