Fighting Seventh
Profile
Miscellaneous
No Atheists
In A Foxhole
Rudyard Kipling" "When you're left wounded on
Afganistan's plains and

the women come out to cut up what remains,
Just roll to your rifle

and blow out your brains,
And go to your God like a soldier"

General Douglas MacArthur" "We are not retreating. We are advancing in another direction."

"It is fatal to enter any war without the will to win it."
"Old soldiers never die; they just fade away.
"The soldier, above all other people, prays for peace,
for he must suffer and be the deepest wounds and scars of war."

"May God have mercy upon my enemies, because I won't ."
"The object of war is not to die for your country but to make the other bastard die for his.

"Nobody ever defended, there is only attack and attack and attack some more.
"It is foolish and wrong to mourn the men who died.
Rather we should thank God that such men lived.

The Soldier stood and faced God
Which must always come to pass
He hoped his shoes were shining
Just as bright as his brass
"Step forward you Soldier,
How shall I deal with you?

Have you always turned the other cheek?
To My Church have you been true?"
"No, Lord, I guess I ain't
Because those of us who carry guns
Can't always be a saint."

I've had to work on Sundays
And at times my talk was tough,
And sometimes I've been violent,
Because the world is awfully rough.
But, I never took a penny
That wasn't mine to keep.
Though I worked a lot of overtime
When the bills got just too steep,

The Soldier squared his shoulders and said
And I never passed a cry for help
Though at times I shook with fear,
And sometimes, God forgive me,
I've wept unmanly tears.
I know I don't deserve a place
Among the people here.

They never wanted me around
Except to calm their fears.
If you've a place for me here,
Lord, It needn't be so grand,
I never expected or had too much,
But if you don't, I'll understand."
There was silence all around the throne

Where the saints had often trod
As the Soldier waited quietly,
For the judgment of his God.
"Step forward now, you Soldier,
You've borne your burden well.
Walk peacefully on Heaven's streets,
You've done your time in Hell."

Proud To Have
Served With Warriors
Foreign Bloggers
&
Other Stuff
Gaming
Major D Swami

WITH Lt Col Ivan Lee
Click Here
Lt Col Ivan Lee
you want him with
you in a firefight!!!!
Dying Warrior
Condors-Infantry
Fighting Vehicles
xxxxxxxxxxxxxxx
Camp
Bujang Senang
Click Here
xxxxxxxx
The A Team
Click Here
xxxxxxxx
Major General
Toh Choon Siang
Click here
Lieutenant General
Stephen Mundaw
Click Here
With His
Dying Breath
Killed in Battle
In Death
Last Thoughts
Before Battle
Whilst There Is
Life, There Is Fight
Iban Trackers
XXXXXXXX
Facts On RoP
Hutang Negara
Advertistment
XXXXXXXX
Advertistment
XXXXXXXX
Advertistment
XXXXXXXX
Advertistment
XXXXXXXX
Advertistment
XXXXXXXX
Advertistment
XXXXXXXX
Advertistment
XXXXXXXX
Advertistment
XXXXXXXX
Advertistment
XXXXXXXX
Advertistment
XXXXXXXX
Advertistment
XXXXXXXX
Advertistment
XXXXXXXX
Advertistment
XXXXXXXX
Advertistment
Advertistment
XXXXXXXX
Advertistment
XXXXXXXX
Advertistment
XXXXXXXX
Advertistment
XXXXXXXX
Advertistment
XXXXXXXX
What the pundits are forgetting in the 'green wave' mania By Terence Netto
Friday, December 09, 2022
Malaysiakini : But one general election later – GE11 in March 2004 – BN, under the newly minted prime ministership of Abdullah Ahmad Badawi, reduced PAS to seven seats in Parliament, losing the 20 seats it had gained in its extraordinary performance in GE10.
Voters' preference not set
The lesson taught by comparative Malay/Muslim voter behaviour in GE10 and GE11 was that resentment at a phenomenon or a personality does not last long. They are pliable to personnel and attitudinal change.
A change in leadership, from Mahathir to Abdullah in the instance cited above, or a shift in policy or attitude, as may be inferred from the initial initiatives of current Prime Minister Anwar Ibrahim, can affect Malay voter allegiance in a major way.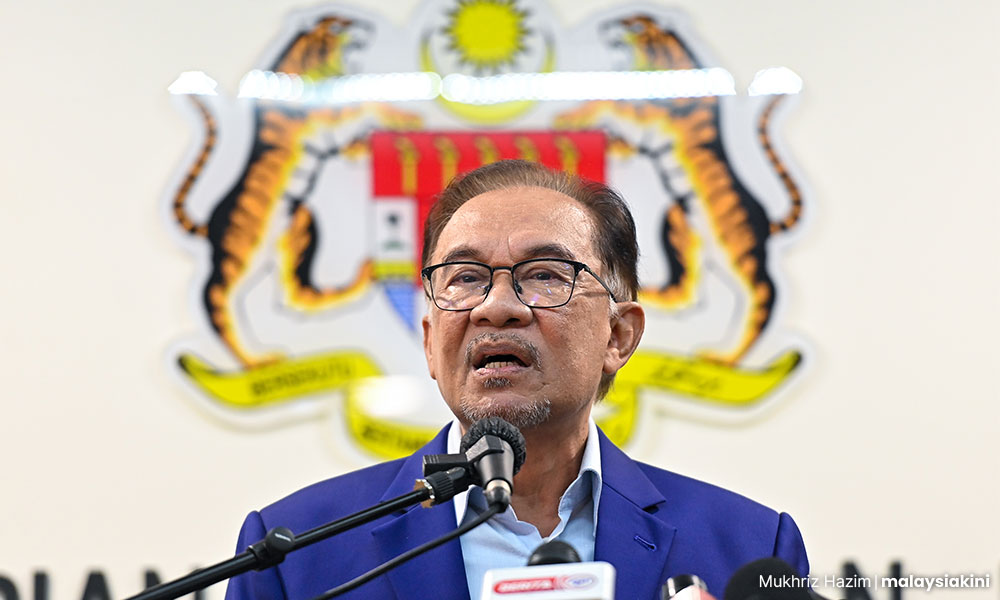 From this standpoint, it can be argued that Malay/Muslim voter behaviour in the next general election (GE16) will be influenced by the outcome of investigations, newly commenced, into how the Perikatan Nasional government under Muhyiddin Yassin had allegedly spent the RM600 billion in Covid-19 outlays in the period of the pandemic.
Muhyiddin has held that there was nothing illicit about the way the money was spent while PM Anwar has contended that procedures for the disbursements were not adhered to.
In fact, you do not need a crystal ball to say this far away from the next general election that corruption – and how the ruling Pakatan Harapan government deals with it – will have a huge sway on not only Malay/Muslim voter allegiance but also on non-Malay preference.
Making compromises
Of course, this assumes the Harapan government will continue to stay in power until GE16.
Well, the anti-hopping law has made this assumption a little easier to entertain, but much will depend on how Anwar manages the problem posed by the presence of the problematic Ahmad Zahid Hamidi in government.
Zahid, the Umno president, is on to a rhetorical tack that is beginning to question identity politics and the racial and religious basis on which it is constructed.
Improbable as it seems, the collaboration between Harapan and Umno-BN would work if Zahid continues to hold forth as he has recently done.
This only demonstrates that the ideas of Harapan – the ones on multi-racialism – have infiltrated their new-found collaborators more than the past disputants realise.
This is the virtue of democratic politics, the compromising spirit it induces in its practitioners, that they are led to look at past anathemas and enmities as no longer serviceable.
This is what the writer Proudhon meant when he talked about the "fecundity of the unexpected".
This is the various system of alternatives, within which political constructs work themselves out.
The greatest of human gifts may be the talent for improvisation, the ability to evaluate a situation and then devise some new way of dealing with it. Without that gift, history would be nothing more than a tedious and, at times, brutal repetition.
Harapan, aided and abetted by a motley cast of unsavoury characters, must improvise and make its tenure in Putrajaya work.
posted by Major D Swami (Retired) @ 10:27 AM

Anwar needs a bumiputera agenda - Commander S THAYAPARAN (Retired) Royal Malaysian Navy
Thursday, December 08, 2022
Malaysiakini : While the Malay governments charged with doing so have built an elaborate system of corruption that disenfranchises and marginalises the Malay community.
Fixing electoral legerdemain is one thing but cultivating a healthy Malay base is another. The reality is that there will never be a stable reformasi government without a healthy Malay base. In order to do this, the racial discourse needs to change when it comes to Harapan.
A couple of points need to be made. Firstly, we should not harp on terms like moral high ground and principles, especially when it comes to non-Malay politics.
Some folks find it easy to blame the old maverick for everything that went wrong when Harapan was in brief power the first time around. However, the reality was that non-Malay power structures were complicit in the way how Harapan spectacularly imploded and was pandering to race-based policies because then, like now, folks were worried about the Malay vote.

The second point that needs to be made, is that while it is easy to think that the Malay voted for PN because it was a safe bet when it came to the "corruption of Umno" and the fears of Chinese DAP controlling Harapan, we need to (and this is where I and the good doctor would probably disagree) face the cold hard truth that there is a certain section of the Malay voting public that agrees with everything PAS claims about Islam and race in this country, specifically that Malaysia should be a theocratic state and that non-Muslims should be pak turut.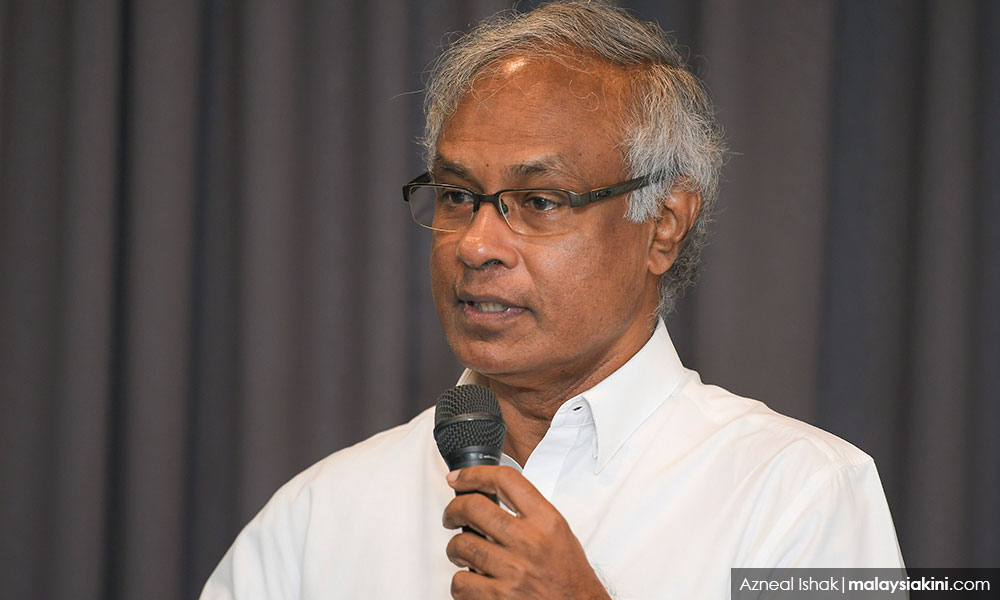 It is with this group that unfair voter weightage and gerrymandering benefit the most, and indeed Abdul Hadi Awang has said on various campaign stumps over the years that rigging the system would benefit them (PAS) the most.
Not only does grand poobah Anwar Ibrahim need a bumiputera agenda, but what he and his team need to do is base it on a class dialectic.
We are getting some of that now, with Anwar going after monopolies that only benefit the political elites. This is all part of the feudalistic mindset that Umno created over the years and the reason some folks, certainly in PN, are getting flustered. They want the system to endure.
Indeed what has hampered the Malay community, especially those marginalised and rural, are not the policies themselves (which is a whole other debate) but rather the corruption and mismanagement that has put them in a situation where their economic fears become their racial and religious fears.
This happens when your existence is based on how directly the state can influence your life.
Vicious cycle
Indeed former prime minister Ismail Sabri Yaakob has admitted that all those poverty alleviation programmes were carried out by the vast bureaucracy and nobody had any idea about their effectiveness – "… that hitherto many ministries had programmes on poverty alleviation but there was no specific monitoring on their effectiveness."

Not because monitoring these programmes would mean there would be transparency, but because many of these poverty alleviation programmes were part of the gravy train driven by bureaucrats, political operatives and their various proxies.
The non-Malays on the other hand, having left to fend for themselves, have opened up economic, educational and social spheres in which connective tissue has allowed the state to sustain a kleptocracy that has endured for decades.
This too is a vicious cycle but one that can only be broken when Harapan has the Malay support it needs to reform the system.
This brings us to the question of "compromises". Non-Malays have to figure out what exactly these compromises are. Accessibility to state-funded education programmes, economic enterprises and a plethora of issues crop up whenever we have these types of discussions.
Not to mention personal and civil liberties, which the theocratic state is waiting to destroy.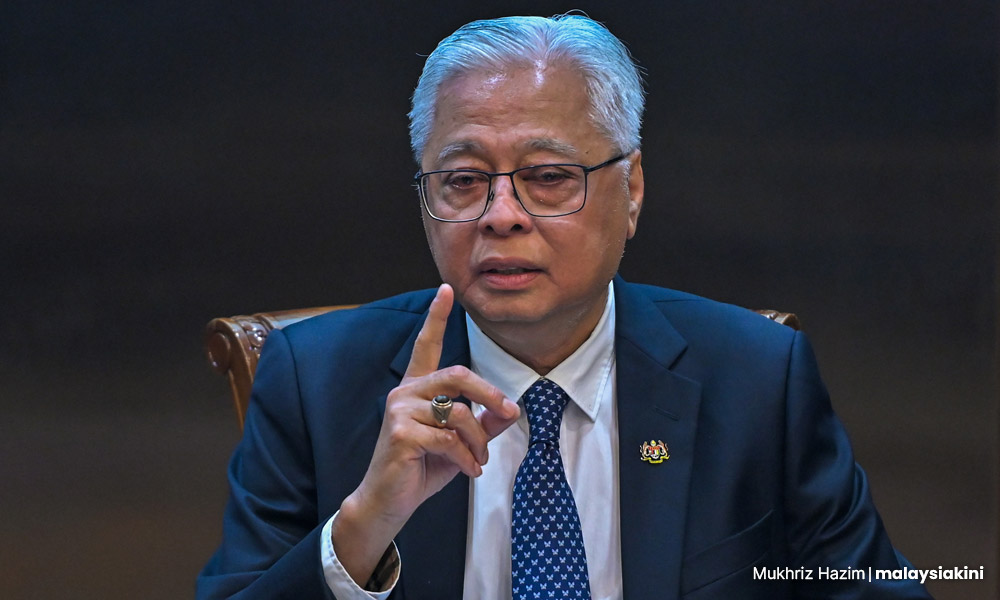 Reforms of state institutions that minimise corruption and deregulation which minimises cronyism are some things we can all agree with and, perhaps, the most economically viable way to sway the Malay public option. This is why PAS, in particular, wants this to be about a culture war.
And the culture war is where it's at and where Anwar's bumiputera agenda will be severely tested. This means reforming the vast religious bureaucracy.
Look beyond the corruption, leakages and wasteful mismanagement of funds. What this ministry does is subvert democratic principles in the name of religious solidarity. And of course, there is wastage and corruption.
Again, remember what Ismail Sabri said - "Yet, another day, perhaps the religious council will bring zakat relief for the village again, and train the people again. But no one is monitoring. No one shows the way. (The visitors) give courses, give goods, and then leave... in the end everything is a failure. The project fails because there is no specific monitoring."
Hence all this talk of poverty alleviation, especially when it comes to the Malay community, is mired in the kind of corruption that plagues the mainstream political establishment.
Remember what Jeyakumar has said - "If you stop affirmative action for the rich Malays, even the poor Malays would accept it."
If Anwar defines his bumiputera agenda as a class-based agenda (dissonant as it sounds) and reforms the system, aid actually goes to the majority, especially the disenfranchised as opposed to the elites, and this would be the start of cultivating a base, and more importantly, less compromising in the name of unity.
The big question is, can Anwar craft a bumi agenda which will not spook the non-Malays?
posted by Major D Swami (Retired) @ 1:24 PM

And the winner is… Ahmad Zahid Hamidi By RK Anand
Tuesday, December 06, 2022
Malaysiakini : To them, it was nothing more than an act of desperation since Muhyiddin Yassin and PAS refused to entertain Zahid's demands although having no reservations about enlisting him and the infamous "court cluster" in the Sheraton Move and riding on their support to orchestrate a coup.
At the Umno annual meeting in 1998, Zahid drew the first blood to remove Dr Mahathir Mohamad, who was Umno president and prime minister (round one).
The then Umno Youth chief delivered a scathing speech on cronyism and nepotism. He also sidestepped a question if Mahathir's Forbes list son Mokhzani, the wing's treasurer at the time, supported his stand, stating that the latter should answer that.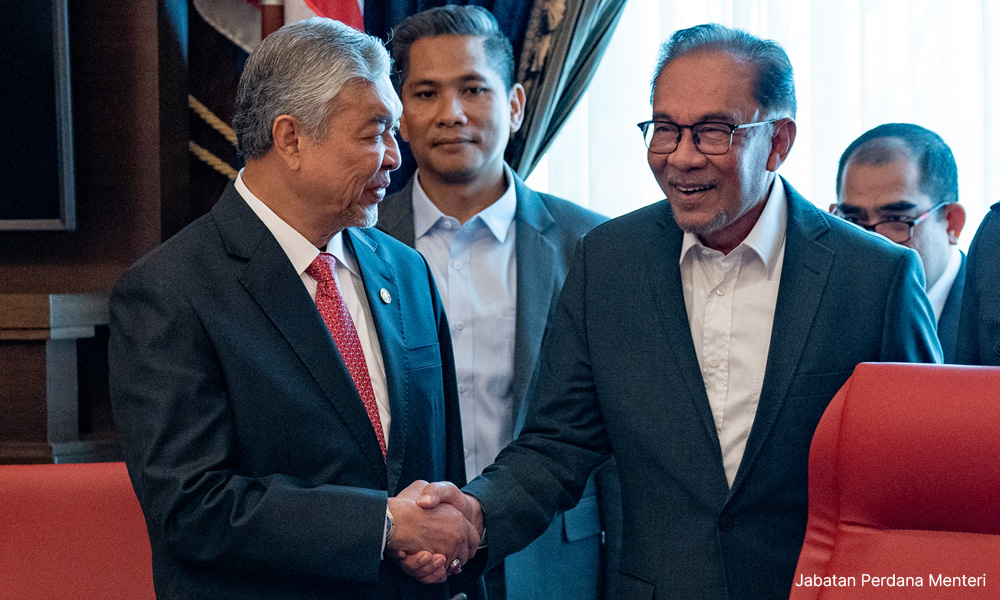 But Mahathir had been underestimated. In brief, that was Anwar's last Umno meeting and Zahid repented.

Since the 2018 polls which dethroned Umno, the political scene, to borrow the words of Lewis Caroll, has become "curiouser and curiouser". But somehow, Zahid, with his trademark Cheshire cat grin, managed to capitalise on the turbulence.
Though insisting that the 15th general election be called during the monsoon season, coming close to drowning himself in Perak and leading BN to its worst electoral setback to date, he dodged daggers, to emerge as one of the biggest winners.
In return, Zahid placed Pakatan Harapan in a difficult position.
The Harapan chairperson, who spearheads a coalition that had rallied voters with the clarion call of eradicating corruption during four consecutive elections, has now appointed a deputy prime minister on trial for 47 corruption charges.
Zahid is also implicated in the littoral combat ship (LCS) scandal, which Harapan leaders were up in arms over.
He is the same person who Lim Kit Siang branded as worse than Najib Abdul Razak, Rafizi Ramli stressed PKR would rather be in the opposition than work with and Mohamad Sabu rendered a song, which went "Kalau Zahid Hamidi, kamilah penyamun dalam ini negeri, semua harta, kami curi setiap hari."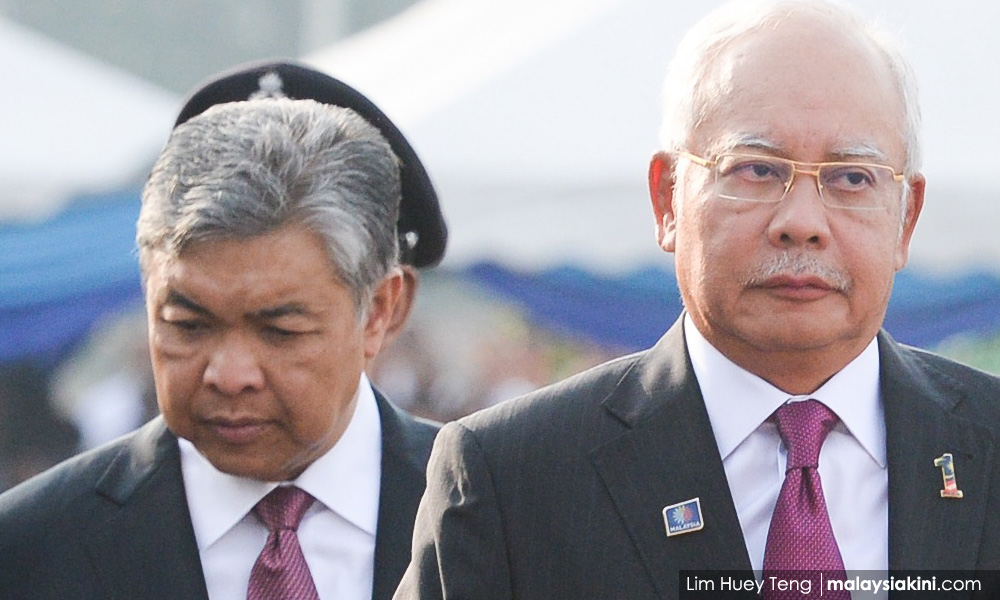 Has Harapan lost moral high ground?
There is also speculation that Zahid would be allowed to walk free for the current government to survive.

Such a scenario would suggest that the executive can alter the outcome of court cases. But numerous political leaders have made similar statements or insinuations.
For example, Anwar cried foul over his court cases in the past, Muhyiddin claimed Zahid wanted him to intervene in his case, Ismail Sabri Yaakob came under fire from some in Umno when Najib landed in prison under his watch and aspersions were cast when Lim Guan Eng was acquitted after Harapan formed the government in 2018.
Has Harapan lost the moral high ground after joining hands with those whose hands it denounced as stained?
For analyst Wong Chin Huat, the first institutional reform that must be executed is the separation of the Public Prosecution Office from the Attorney-General's Chambers.
"Otherwise, beyond losing the moral high ground, if for what reasons the cases of court clusters are dropped or won, the public would likely see them as the outcome of political interference.
"While some hardcore Harapan supporters, especially non-Muslims and liberals who fear PAS, may try to defend it using all kinds of excuses, the Malay middle ground would be turned off and further shift to PN," he said.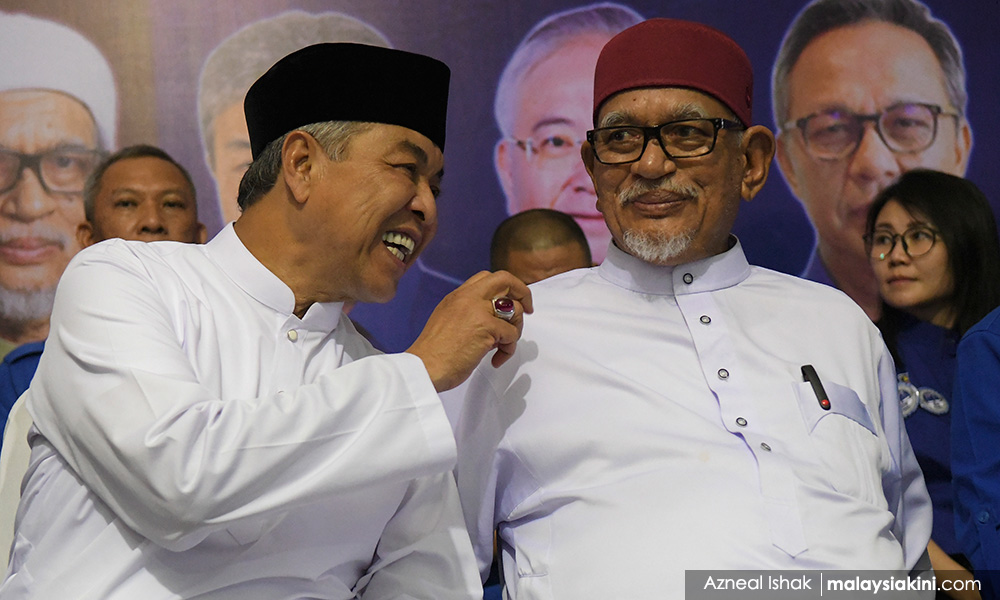 Those who support Anwar's administration use the alternative of PN coming to power as a defence, claiming that moderate forces had combined their strengths to prevent extremist elements from treading the corridors of power.
It seems that the rulers themselves are uncomfortable with PN holding the reins and PAS president Abdul Hadi Awang's incessant diatribes along racial and religious lines are convincing large swathes of the population that the other option is a more frightening prospect than working with BN.
Corruption when juxtaposed against a Hadi-helmed PAS-led government somehow becomes a tolerable crime.
In the weeks before and after the polls, Hadi's vitriol conjured the image of the Looney Tunes Wile E Coyote, which has dedicated its life to pursuing the roadrunner. So, if for some inexplicable reason DAP was to disappear from the face of the earth tomorrow, Hadi and PAS might suffer an existential crisis because there is nothing else to talk about.
Furthermore, Malaysians are also fatigued with prime ministers competing with one another for the shortest tenure in office award. The nation is in dire need of political stability, especially in an uncertain economic climate. This sentiment is also working in Harapan's favour.
However, it remains to be seen if another grand prize winner is lurking in the shadows. One, who despite his incarceration, had been instrumental in bringing Harapan and BN together.
Will the "One Way" signpost in Kajang Prison be replaced with another "U-turn" board?
posted by Major D Swami (Retired) @ 11:26 AM

Making Hadi opposition leader ought to stem the bilge By Terence Netto
Malaysiakini : On the basis of PAS' dominant size in Parliament, Hadi ought to become the opposition leader although Bersatu president Muhyiddin Yassin, who is also Pagoh MP, is the PN chairperson.
But Bersatu holds only 24 seats, a whole lot lower than PAS' collection.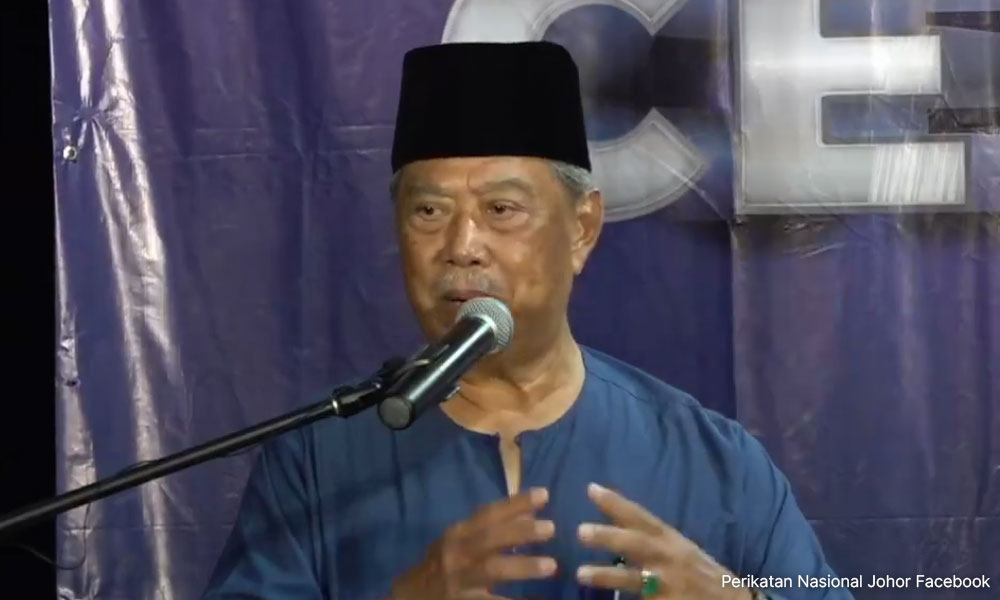 PAS' parliamentary takings of more than double Bersatu's ought to make Hadi a shoo-in for the post of opposition leader.
Unless, of course, Muhyiddin pulls rank and relies on his place in the PN pecking order to stake his claims to the position.
Seemingly, Muhyiddin is helpless before the phenomenon of an unhinged PAS president.
And it won't help PN's cause to have the leader of its largest component shooting from the hip when it comes to targeting opponents.
Making Hadi the opposition leader would be a not-so-subtle manoeuvre to get him to curb his penchant for reaching for the cudgel, instead of the scalpel when taking on the opposition.
However, there is a deeper reason to commend Hadi for the role of opposition leader.

While he and PAS were a part of the opposition led by Anwar Ibrahim, under the aegis of then-Pakatan Rakyat, Hadi has chafed under the leadership of Anwar.
Hadi jealous of Anwar?
That recalcitrance led in April 2013 to Hadi leading a coterie of PAS leaders to meet and urge Anwar to yield to PAS' preference of Tengku Razaleigh Hamzah as their choice of prime minister - in the event they won the 13th general election (GE13).
This was in spite of the fact that Razaleigh was an Umno MP and went on to stand on an Umno ticket in GE13.
When Anwar resisted the PAS importuning on behalf of Razaleigh, Hadi led the same delegation to meet up with the Kelantanese prince, to urge him to accept the nomination for prime minister should the opposition emerge victorious from GE13.
On his part, Razaleigh told the PAS delegation to wait for the outcome of GE13.
In the event, at GE13, Pakatan Rakyat garnered 52 percent of the popular vote but wound up with only 40 percent of the parliamentary tally - a consequence of the gerrymandered parliamentary landscape.
Hadi's end-runs around the possibility of an Anwar premiership have been variously attributed to jealousy and other unparliamentary traits.
Even when Dr Mahathir Mohamad appeared to be dragging his feet on handing over the premiership to Anwar as per an unwritten agreement amongst its powerbrokers, Hadi, while in the opposition, was all for Mahathir being given the time and space to choose his exit.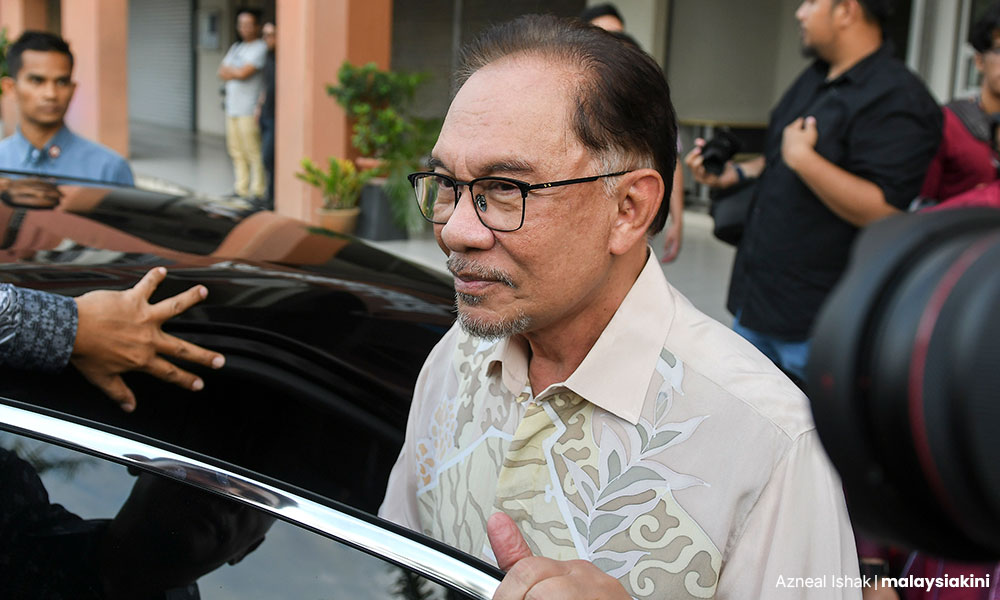 Chagrin may be the reason for Hadi's refusal to grant Anwar his prime ministerial due.
What better reason now, then, for Hadi to show that it was not resentment that had prompted his eddies around the possibility of an Anwar premiership than to occupy the seat across the parliamentary aisle from the prime minister, and show the latter to be wanting.
posted by Major D Swami (Retired) @ 10:59 AM

Anwar's cabinet of necessity - Commander S THAYAPARAN (Retired) Royal Malaysian Navy
Monday, December 05, 2022
Malaysiakini : There are also the ministries that, if managed properly, are a direct line to the masses and could play a pivotal role in shaping Malay public opinion, which is why it is good that DAP supremo Anthony Loke said this: "Therefore whatever positions we have been given, we will do the best for the country."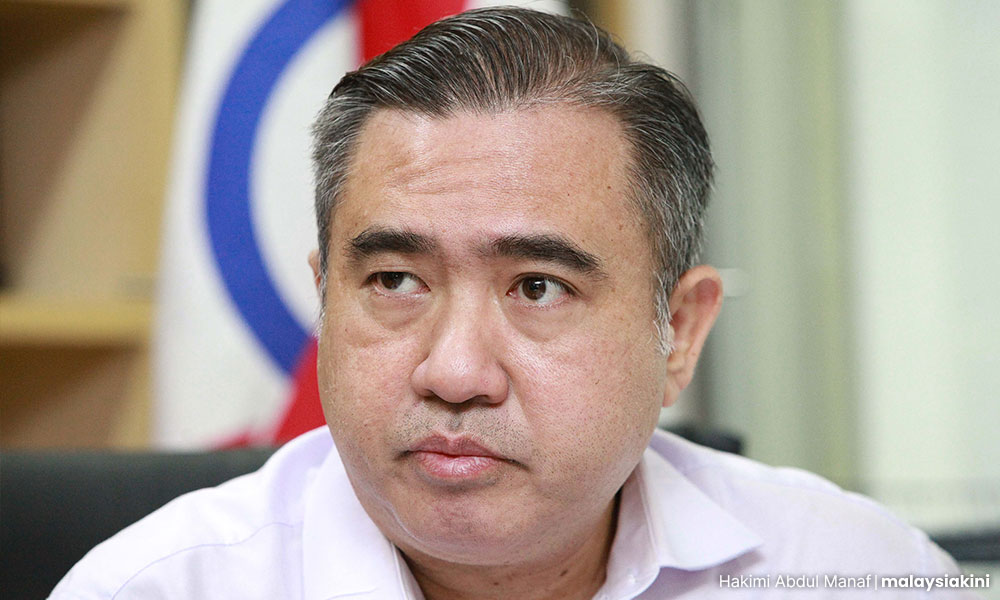 The DAP can have a great influence in the country if they manage these ministries well and indeed play a pivotal role in Anwar's agenda to supplant the extremist vote for a more moderate agenda.
I get it, I really do. It is horrible being denied political power merely because of your race.
More importantly, it is terrible to be denied political power to appease the propaganda that the DAP is secretly controlling Anwar.
"We supported him without any conditions. I said that if (DAP) was a stumbling block (to the formation of a government) we would facilitate and ease (the process) of him getting a majority," said Loke, and this is very commendable.
In fact, this is what people like Abdul Hadi Awang and Muhyiddin Yassin will not understand. Sacrifice for greater utilitarian good.
Meanwhile, playing a bad cop - or is that good cop - depending on which part of the base is being appealed to I suppose, the Penang DAP head honcho laments the fact that the DAP is not getting their due.
Ok, so what happens if the DAP gets the most ministries? Do you think that this would make it easier or harder for Hadi to make his case that the Chinese community is controlling the country? And would this be better or worse for the DAP in the long run?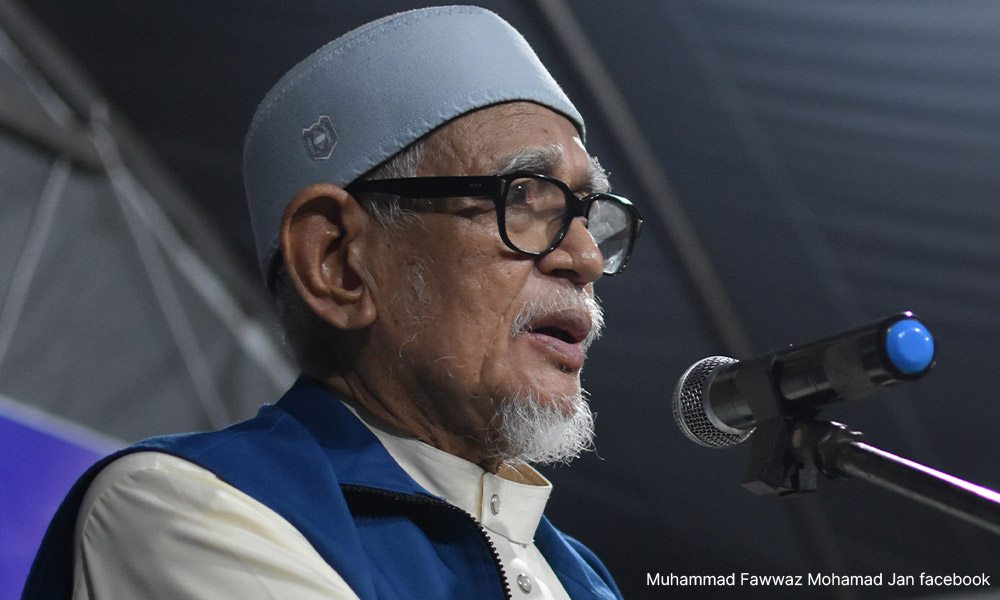 The reality is that the power of the DAP is to move large voting blocks to secure the urban areas from the encroachment of racial and religious barbarians.
The power of the DAP is to secure the economic areas of progress which ironically funds the extremism that we are facing now. This point is beyond the scope of this article and something I have discussed before.
Toxic brew of extremism
Zahid as a DPM gambit only pays off if Zahid is able to maintain control of Umno, and more importantly, supports the initiatives to correct the electoral imbalances that favour the religious extremism in this country.
And no matter what anyone tells you, this is the key right here, and hopefully, in the agenda of the current prime minister.
This is why Hadi is frothing mad and going into conniptions. What he and PN hoped for was a government which would have carried out the greatest electoral delineation process this country ever saw, which would have ensured that it would remain in power in perpetuity.
People think the 1MDB scam was the greatest robbery they had ever witnessed. Well, PN and PAS were going to steal democracy from right under our noses.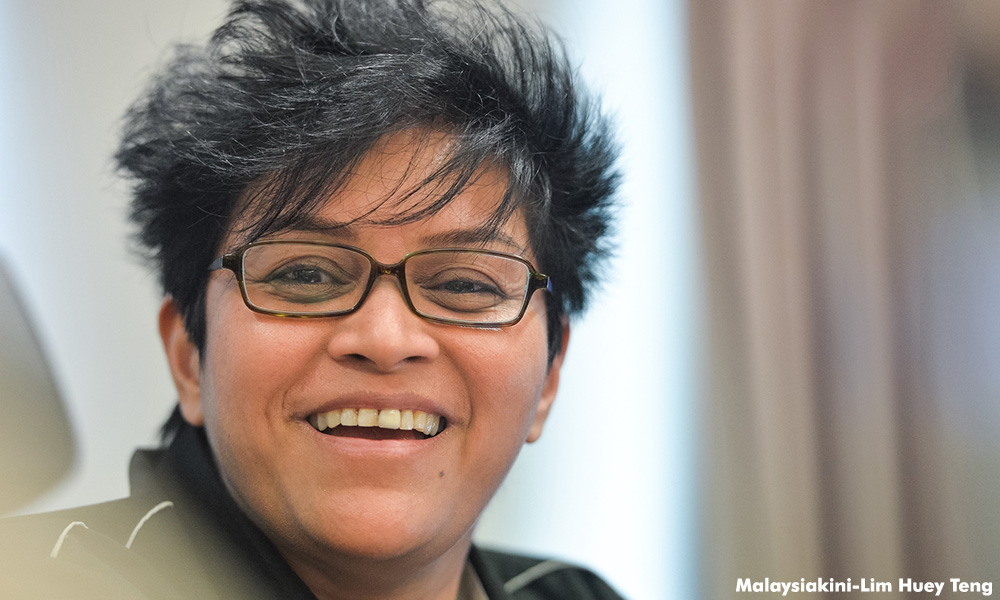 New minister Azalina Othman Said stated that "….. and where need be, laws will be reformed to reinstate rights to the vulnerable, marginalised, and those who are not treated equally in our nation."
Hopefully what this compromise government and these ministers understand is that there are far too many outdated laws that favour the racial and religious extremists that threaten this "unity government" and the best way to ensure the continued stability of this government, but more importantly, this country, is to reform laws that enable and embolden the racial and religious extremists who now form the opposition in this country.
What the Harapan base needs to remember is that the efficacy of this cabinet is not the personalities involved but whether Anwar's government, through his cabinet, can withstand the toxic brew of extremism that is being mainlined into the arteries of this country.
What the Harapan base needs to come to grips with, is that the DAP, for some time, may not get its political due but will have to be content – if this government lasts that long that is – to remain the backbone of Harapan.
I understand that this may be an unpopular opinion but as I have always argued, the existential threat facing this country is religious extremism and if they win, it will be cold comfort that the DAP continues winning the most seats but being part of an ineffective opposition.
Ultimately, with the gerrymandering and the demographics as destiny agenda of the racial and religious extremists, it will all mean bupkis.
If this is truly Harapan's last shot, the base should make it count.
posted by Major D Swami (Retired) @ 9:00 AM

Anwar's victory not the only Malaysian shockwave By Lowy Institute
Thursday, December 01, 2022
Malaysiakini : PAS won 49 seats, the most of any individual party and almost a three-fold increase from 2018 polls in the Nov 19 general election.
Founded in 1951, the party's lifelong struggle is to replace Malaysia's democratic system with Shariah law. The PAS stronghold lies in the east coast states of Kelantan and Terengganu but has now expanded to Kedah and Perlis.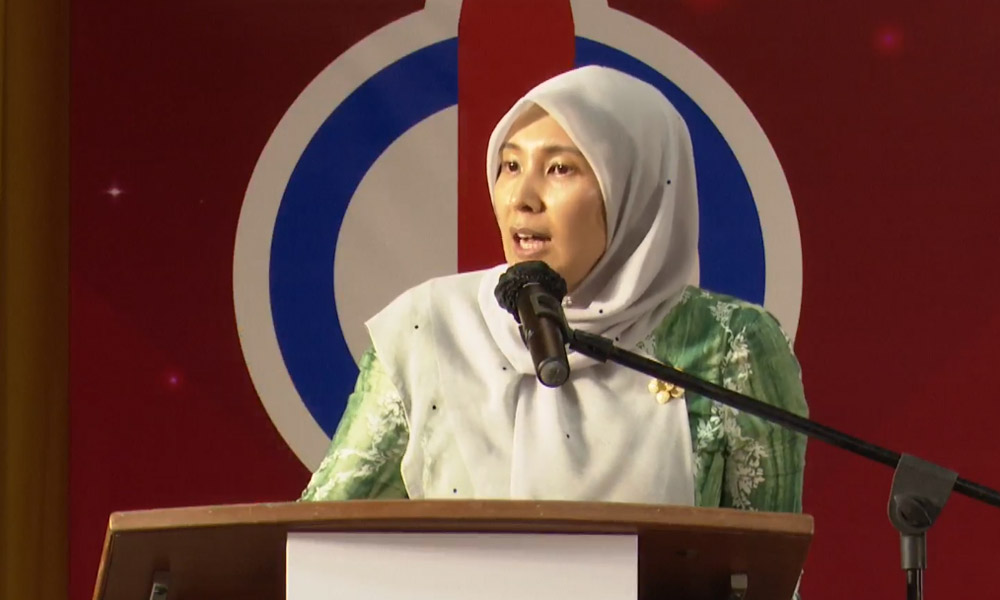 It draws its inspiration from Islamist parties around the globe – Egypt's Muslim Brotherhood, Indonesia's Masyumi Party and Pakistan's Jamaat Islami.
The spread of PAS influence in Malaysia accelerated 20 years ago through the proliferation of thousands of schools for all age groups, either owned by the party or its staunch supporters, according to former PAS vice president and senior Muslim cleric, Ahmad Awang.

PAS-linked kindergartens, tahfiz (al-Quran memorisation schools) and Islamic schools are spread across the country, reaching as far as Sabah and Sarawak states on Borneo Island, which has large Christian and animist communities.
In these schools, the students are "planted with PAS" doctrine, Ahmad told me. The students are taught at a young age that it is their duty to vote for PAS. If they were to vote for other parties, they will go to hell.
In PAS strongholds in the states of Kelantan and Terengganu, meat from cows, chickens and goats slaughtered by Muslims who are not part of PAS is considered "haram" or forbidden. The exclusivity of the PAS doctrine has created an "us and them" mentality.
Malay Muslims – who are not PAS supporters – are viewed as infidels. The "outsiders" and so-called infidels comprising non-PAS Muslims and non-Muslims represent a dangerous divide in multi-racial and multicultural Malaysia.
Malaysia has thrived and grown into an upper-middle-income country because of its diversity.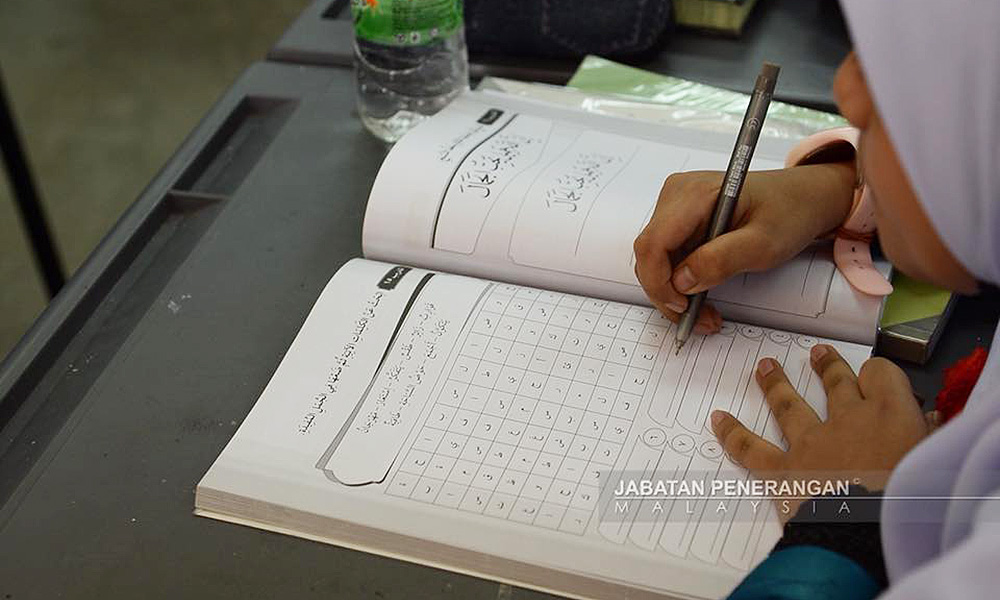 Ahmad, 87, a graduate of Islamic studies from Al-Azhar University in Cairo, was himself branded an infidel when he left the party to join Amanah, a moderate Muslim party where he serves as an adviser.
Amanah is a member of the Pakatan Harapan (Harapan) coalition led by Anwar.
It did not just stop there. Ahmad, a former director of the government's religious affairs department, has also been stopped from preaching in mosques controlled by PAS in Selangor.

Many of the PAS-linked private Islamic schools are set up by Malaysian students who returned home from the Middle East, in particular those from Jordan and Egypt.
As Malay Muslims become more religious, many of them sign up for these schools, which are ubiquitous in urban areas, operating out of rented space in commercial buildings in city centres.
In the survey, 82 percent agreed that the al-Quran should replace the country's constitution, up from 72 percent in 2010.
The number of returnees is huge, given that Malaysia has been sending students to the Middle East since the 1970s. Malaysian students in Cairo, including some on government scholarships, have expressed support for PAS and shunned Umno because it rules according to a constitution "that is not based on Shariah law".
The PAS struggle to turn democratic Malaysia into a theocratic state has taken root. In June this year, Malaysian pollster Merdeka Center published a "Muslim Youth Survey 2022", in which face-to-face interviews were conducted with 1,200 Muslim youths aged between 15 and 25.
In the survey, 82 percent agreed that the al-Quran should replace the country's constitution, up from 72 per cent in 2010.
Those surveyed also believed in complete obedience to religious figures, with 72 percent expressing the view that "true Muslims" should follow the words of religious leaders/scholars and "obey them without question".
The survey also found the number of Muslim youths attending religious schools has jumped, rising to 60 percent in 2022, up from 48 percent in 2010.
PAS president Abdul Hadi Awang has been pushing for the expansion of the Islamic penal code known as hudud law to mete out harsher punishments for Muslims in the states of Kelantan and Terengganu where it rules.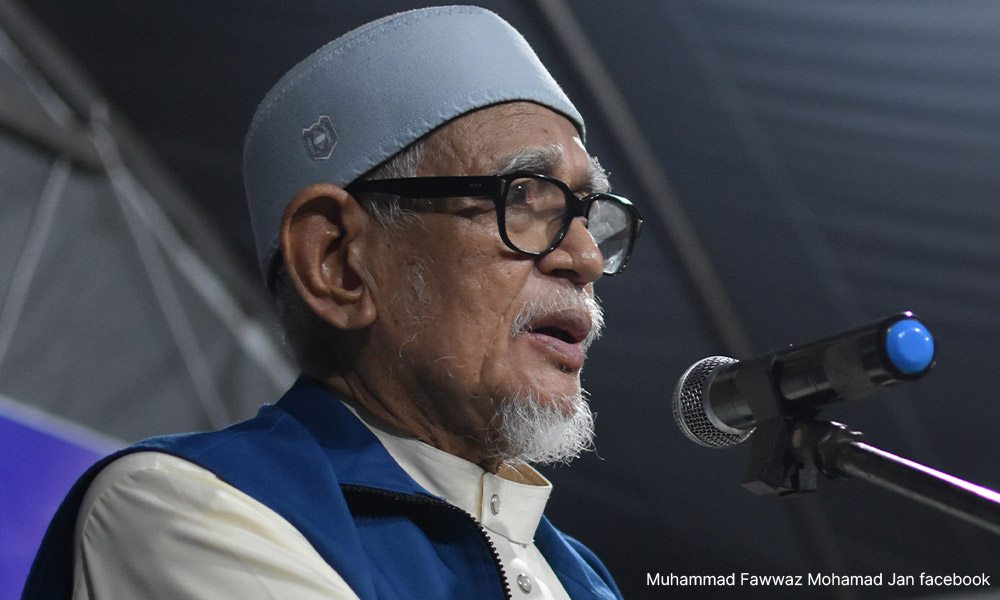 In Kelantan, cinemas are banned, while in Terengganu state, two women were publicly caned in 2018 after being accused of being in a same-sex relationship.
Malaysia has a dual-track legal system, with Islamic criminal and family laws applicable to Muslims running alongside civil laws.
The Islamisation of Malaysia's education system since the 1980s has helped shaped the conservative outlook among many Muslims, who make up some 69 percent of the nation's 30.2 million-strong population.
A combination of domestic factors, Islamic revivalism on local university campuses and the Middle East influence brought back by hundreds of thousands of returning students, have helped propel the shift.
In addition, the 1.4 million new voters after the voting age was lowered to 18 from 21, where the majority are Malay Muslims, are widely believed to have voted for PAS and its partner Bersatu under the Perikatan Nasional (PN) coalition.
PAS victory came at the expense of Umno, the biggest party in Barisan Nasional (BN) coalition, which ruled the country since its independence from Britain in 1957, save for the period 2018–2020 when Harapan was in power.
The majority of Muslim Malays have long voted for Umno. But not this time round. The mighty Umno/BN saw its votes whittled down to a mere 30 seats in the 222-seat Parliament.
PAS/PN vigorously attacked Umno as a party stained with corruption where its president, Ahmad Zahid Hamidi is currently standing trial on corruption charges and its former prime minister Najib Abdul Razak is currently serving a 12-year jail sentence for corruption.
PN won 73 seats.
Perhaps as a sign of future instability, the fiercest attacks from PAS/PN were directed at Harapan, accusing the coalition of being controlled by its partner, the Chinese-based DAP, and stating that if Harapan wins, the country would be run by the Chinese, the call to prayer in mosques would be banned, and same-sex marriage would be legalised.
DAP the centre of attacks
Harapan comprises DAP, Anwar's PKR and the moderate Muslim Amanah party.
The relentless anti-Harapan rhetoric was spread via TikTok videos.
None of the accusations is true but the scaremongering appeared to have worked. Ethnic Malays started expressing fears about being ruled by Malaysian Chinese "who are communists" and who would ban the call to prayer in mosques.
When the election results were announced, Harapan together with its ally Muda party won the most seats, 82, but failed to achieve a simple majority to form the government.
It has since teamed up with its old foe BN (30 seats) and Sarawak's Gabungan Rakyat Sarawak (GRS) with 23 seats, and Sabah-based Warisan (three seats) to form the government.
Ahmad believes PAS has become intolerant under the leadership of Hadi, whom he described as very "extreme" and harsh. Hadi was previously "accommodating," he said, but has since changed.
Hadi stands in sharp contrast to former PAS spiritual leader, the late Nik Abdul Aziz Nik Mat, a Muslim cleric revered and well-loved by many, including the Chinese community in his hometown.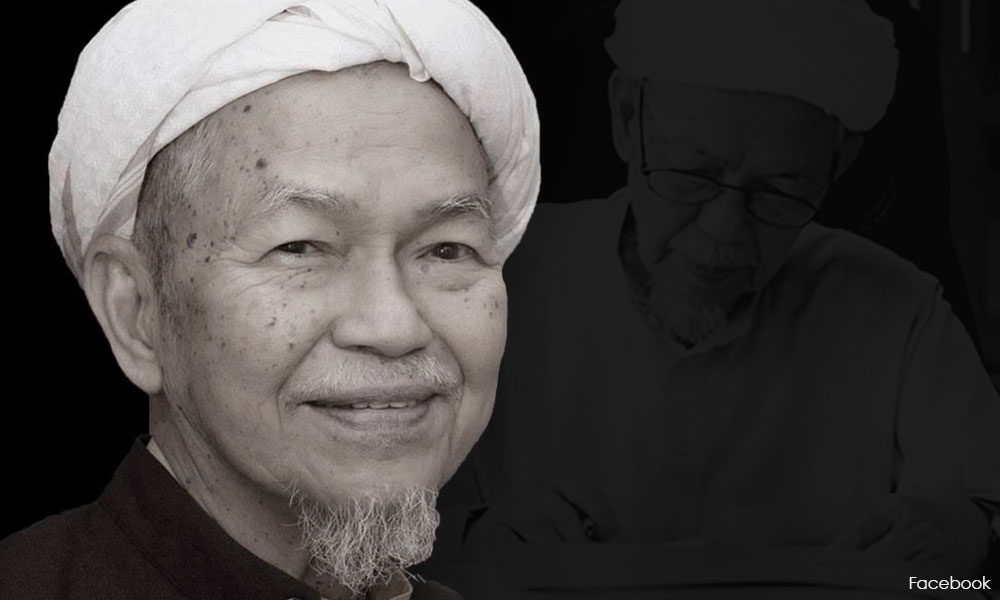 Nik Aziz was known for his tolerance and graciousness, even to his political opponents. He passed away in 2015.
PAS/PN will pose a serious challenge to Anwar and his government. PAS/PN has the numbers and the demography. They have also shown they will not hesitate to use the race and religion cards.
Malaysia's political stability and potentially its way of life are at stake.
Ahmad urged for reforms to the education system so that PAS-linked religious schools are a seat of Islamic learning with an emphasis on justice, mercy and humanity and not a place where political propaganda is added into the mix.
The clock is ticking.
posted by Major D Swami (Retired) @ 8:53 PM

A problem that should have been nipped in the bud By R Nadeswaran
Malaysiakini : In a statement, he told social media users to stop misusing the platforms to spread content that is considered provocative in nature because it will cause public disturbances.
"During the 15th general election (GE15) and before the forming of the federal government, we have warned against social media users that uploaded content that touch on racial and religious issues.
"Stern actions will be taken against users that attempt to threaten public safety and order under the Communication and Multimedia Acts and Penal Code," he said.
Wasn't that closing the stable door after the horses have bolted? Shouldn't there have been arrests when it happened?
If Anwar Ibrahim had not been prime minister, would investigations would have started on PAS leader and Baling MP Hassan Saad for criminal defamation and breaching the peace?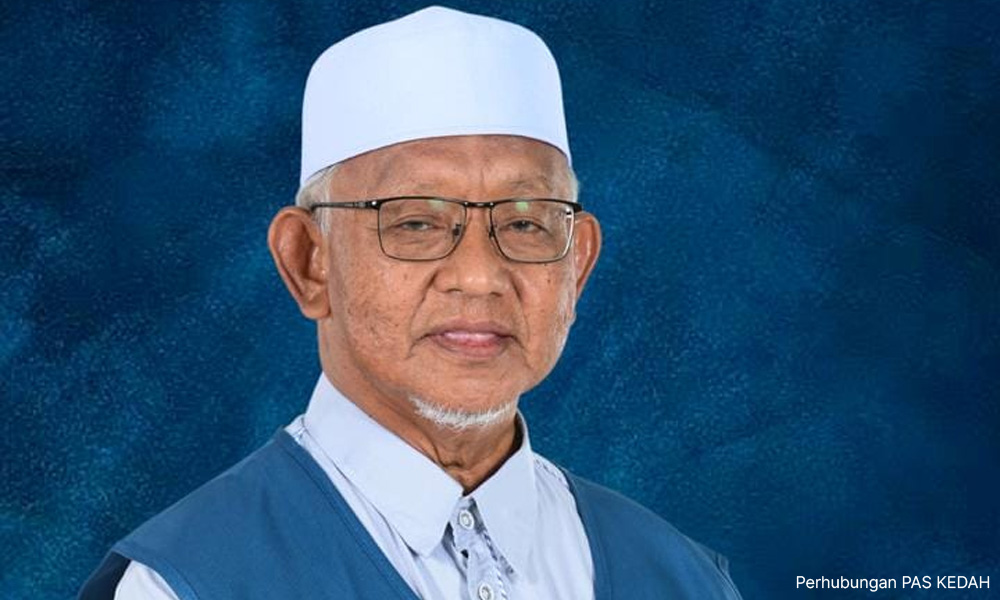 What about former PM Muhyiddin Yassin's infamous rant against Christians and Jews claiming Pakatan Harapan was involved in an agenda to "Christianise" the country?
In a recording of a ceramah in Johor, he claimed a group of Jews want Pakatan Harapan to win the elections and alleged that the party was working with Jews and Christians to "colonise" the country.
In the recording which has gone viral, the former prime minister also claimed that there were Malays attending church services in Kuala Lumpur and Petaling Jaya on Sundays.
Muhyiddin claimed these remarks were taken out of context, and is certainly no defence to such hurtful words but we have to ask: What did you actually mean?
Unwilling to prosecute
Yesterday, as if the police were acting in urgency, issued a press statement saying it is investigating Hassan with the involvement of no less than four different departments - Criminal Investigation Department's Classified Criminal Investigation Unit (USJT), Classified Investigation Unit (D5), and the Criminal Investigation Department (CID).
"The case has been classified under Sections 504 and 500 of the Penal Code, as well as Section 233 of the Communications and Multimedia Act 1998," the statement said.
(Section 504 of the Penal Code pertains to intentional insult with intent to provoke a breach of the peace, while Section 500 concerns criminal defamation.
(Section 233 of the Communications and Multimedia Act 1998, meanwhile, concerns the improper use of telecommunication network facilities.)
But part of the blame for the surge of such statements should fall on the police and to a certain extent, the Attorney General's Chambers (AGC).
This is because both these organisations have declared in court proceedings that they had no plans to prosecute two people who were reported to have made provocative statements.
In April last year, appearing on behalf of the AGC, deputy public prosecutor Ainul Amirah said the AGC was unwilling to prosecute Perlis-based preacher Zamri Vinoth Kalimuthu and Multiracial Reverted Muslims founder and president Firdaus Wong Wai Hung as police had classified their cases as "no further action" (NFA).
The duo is both allegedly linked to controversial preacher Zakir Naik, and Global Human Rights Federation (GHRF) president S Shashi Kumar had said more than 1,000 police reports have been lodged against Zamri for insulting non-Islamic faiths and their religious practices.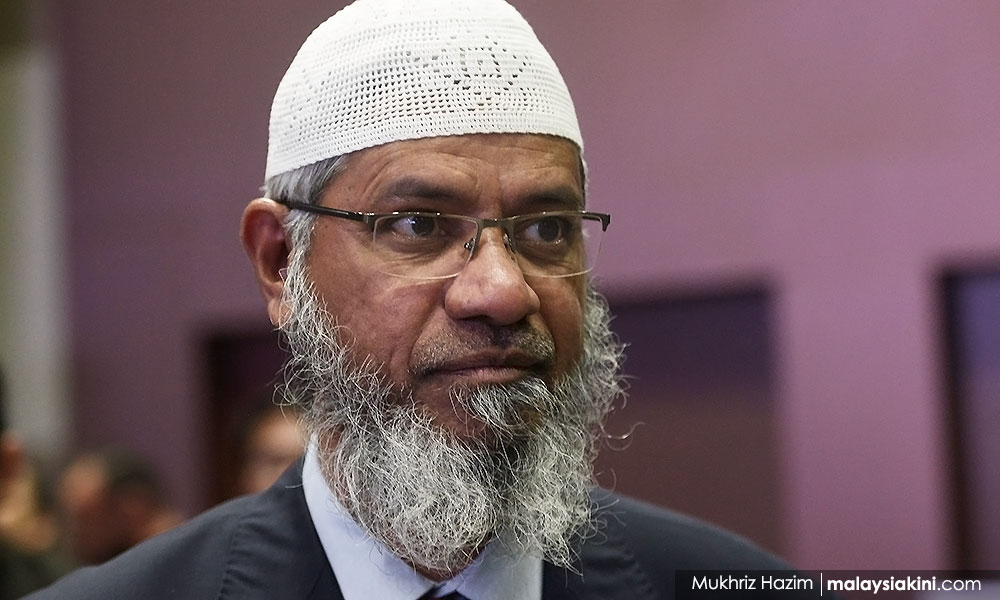 In October, the leaders of four civil society groups and a Sarawak-based political party sought a judicial review over the failure of law enforcement agencies to take action against a Muslim preacher for allegedly making inflammatory remarks against other religions in two videos.
The five want the Kuala Lumpur High Court to issue an order of certiorari to quash the decision of the police and the attorney-general who, they say, refused to act against Syakir Nasoha for remarks made at a mosque in Bakar Arang in Sungai Petani on Dec 16, 2017, which were captured in the first video.
The applicants were seeking an order of mandamus to compel the authorities to act against the preacher. The five also want a declaration that the refusal to act against Syakir was unlawful and an abuse of power on the part of the police and the AG. (Their application is pending).
That the AG has absolute powers is a given. He has unfettered discretion to institute or not to institute, reduce and withdraw charges against accused persons as provided for under Article 145(3) of the Federal Constitution.
What have the police got to say about declaring both cases as NFA? They must give plausible reasons for their decisions. Was it a lack of evidence or reluctance of witnesses to come forward? (These are the most common reasons given when the police don't proceed with prosecution or close a case.)
If these two (and many other) cases had been acted upon, the problem would have been nipped in the bud. Instead, the problem was allowed to rankle, and aggravate and now has grown into an uncontrollable monster.
Now that so many reports were made in the lead-up to GE15, shouldn't the police work as fast as they acted on the prime minister's complaint or will they wait for order in line with "saya yang menerut perintah"?
posted by Major D Swami (Retired) @ 11:31 AM

PAS' extremism is a clear and present danger - Commander S THAYAPARAN (Retired) Royal Malaysian Navy
Malaysiakini : Let me be very clear. PAS-led PN is attempting to do two things with the Jewish conspiracy and anti-DAP narrative.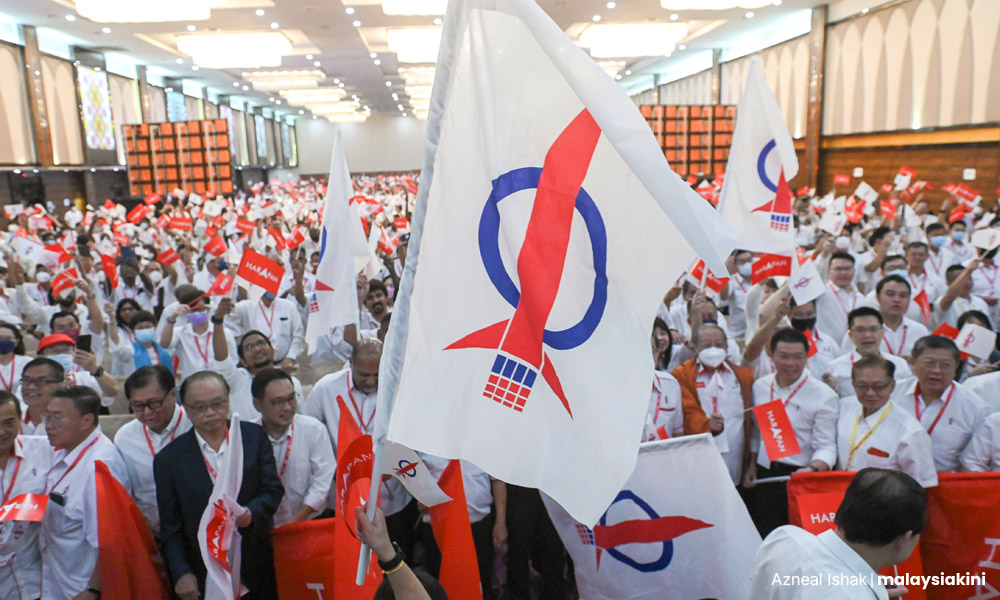 The first is to destabilise institutional processes which include voting and the peaceful transfer of power, and the second is to disrupt institutions like the royalty and the state security apparatus because this is what theocratic political parties have done the world over to supplant the will of the people and democratic norms.
The former is why PAS is on a rant that they were denied federal power because of the machinations of Umno and that Umno is conspiring with proxies of the Jewish state and DAP is out to Christianise Malaysia.

The latter is to cast doubt on the royal institutions which brokered this deal. PAS and PN do this because they believe that the Malay majority they have is enough to usurp the democratic process and destabilise these institutions in their favour.
Keep in mind what PAS is doing now, is exactly what someone like the old maverick did back in the day when he challenged and curtailed the power of the royal institution. The difference of course is, what PAS and PN want is the royal institution to legitimise their theocracy.
I do not think people understand how dangerous the situation is. Now while PN and PAS may disavow their rhetoric as either being taken out of context or as in PAS' case, a complete indifference to laws because they understand that they are shielded from them through historical precedent, what would happen if there were followers who acted on these irrational beliefs?
Supposing someone who really believed that Prime Minister Anwar Ibrahim and the DAP were actually proxies of the Jews? Or supposing someone truly believed that Anwar and the DAP were going to destroy Islam in this country?
What did PAS president Abdul Hadi Awang say? "The stink emanating from the rotting corpse (of DAP's alleged Islamophobia) cannot be hidden by its faeces-covered hands, although it has a facade of a Muslim."
What did PN chairperson Muhyiddin Yassin say (which he claims was taken out of context)? "That is their long-term strategy. We may not see it now, but we will witness it soon if we are not careful."
Destabilising democratic norms
Now there are three problems here. The first is lone wolf operatives who believe this vile propaganda and for whatever reason act on them.

Lone-act terrorists are extremely effective in destabilising democratic norms and the response from the establishment here in Malaysia to such acts (although not violent ones) has been to coddle the perpetrators and ask for "understanding".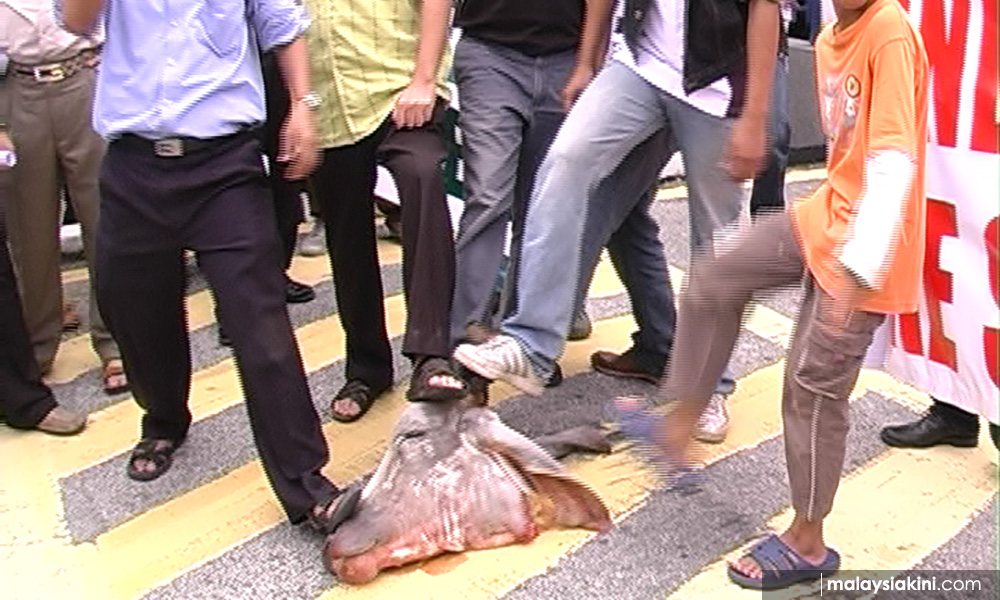 Remember the cow head protests and how then home minister Hishammuddin Hussein said that we should understand their anger? "They are not going (to be let off) scot-free. But they just feel victimised because they feel there is another valid explanation and had no intention to cause racial (divisions)."
Or how about the vandals in Manjoi when then Perak menteri besar Ahmad Faizal Azumu reportedly said he understood the sentiments of the NGO, as Kampung Manjoi is one of the biggest Malay villages in Malaysia. However, he said they should not have acted on their own, and should instead have lodged a complaint with the authorities.
The second is the radicalised groups of people who for whatever reason threatened violence because of the propaganda of PN and PAS, and who believed that they would find a safe haven in the PN political establishment or PN-led states.
What would these groups look like? Well, we have for instance Jamal Md Yunos' red shirts who threatened a riot in Petaling street which necessitated a visit from the Chinese ambassador. "The ambassador was also happy to see there are not only Chinese traders in Petaling Street, but also traders of other races as well," said a statement from the Chinese embassy.
While Jamal is a buffoon, we have to understand there are many racial and religious groups who feel abandoned and threatened by Harapan's ascension to power and no doubt they will become even more radical by the propaganda of PN.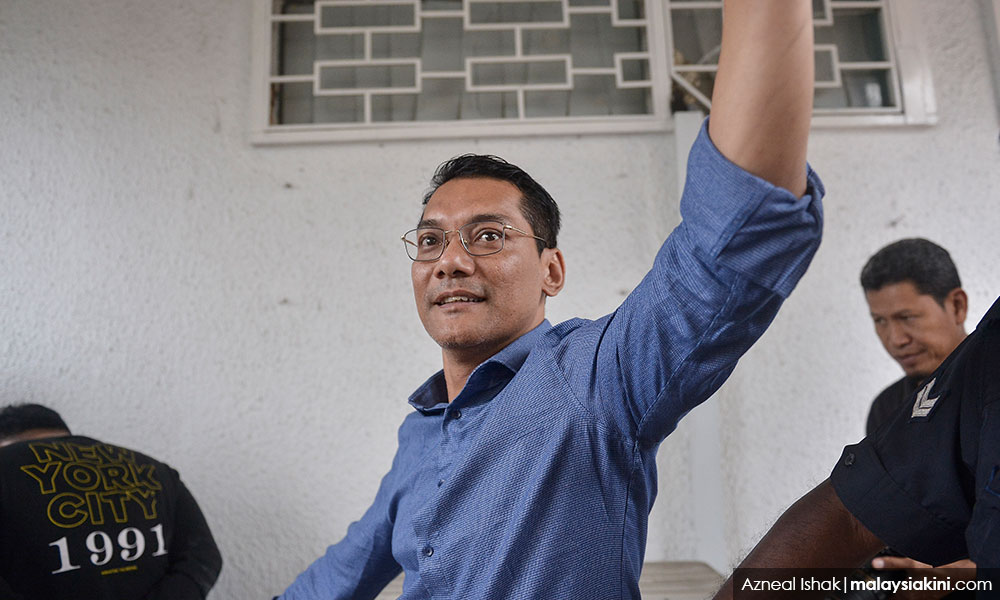 Keep in mind after the Seafield temple fracas, Jaringan Melayu Malaysia president Azwanddin Hamzah, in 2018, threatened to attack the federal state security apparatus.
"My warning to them, immediately arrest the developer, arrest the lawyers. If not, ladies and gentlemen, we will attack the Klang police station," he said at a rally urging justice for the late firefighter Muhammad Adib Mohd Kassim.
So keep in mind what we are dealing with here are either individuals or groups whose connective tissue is the propaganda and enabling of the political establishment which in this case is PAS-led PN.
The third and final problem is the most dangerous. What I am talking about are foreign operators who would use the propaganda of PAS and PN, especially when it comes to the Jewish conspiracy, to start insurgency cells in this country because some people have become radicalised and are primed to carry out acts of violence because they believe that Malaysia will become a vassal state to Israel.
While I sincerely believe that the vast majority of Malaysians even though differing in their political and religious stances would not resort to violence, the danger here is that PAS and PN are willfully creating an environment (for self-serving goals) in which people may resort to violence because they truly believe in the propaganda these political operatives spew.
And there is no turning back from that.
posted by Major D Swami (Retired) @ 9:47 AM

Drawing the line on hate speech By Terence Netto
Wednesday, November 30, 2022
Malaysiakini : Fahmi is accused of going against the spirit of that talk and that pledge to defend freedom of speech by his calling for police action against the PN candidate in the Padang Serai by-election on Dec 7.
Azman Nasrudin had denounced the Harapan-BN federal government as an "adulterous" (kerajaan zina) one in a campaign pronouncement which drew the ire of Harapan.
Azman would later soften the impact of his statement by admitting he may have gone overboard.
But that attempt at damage control came a little too late as Fahmi had already called for police action against Azman.

It is not that the police have sprung into action against Azman, but when Fahmi expatiated on his call for police action, he adverted to the blessings the Harapan-BN unity government had supposedly obtained from the Rulers' Conference.
Fahmi's reference to the royal institution imbued his call for police action with a frisson that hoisted it out of a 'no blast area' into a volatile zone.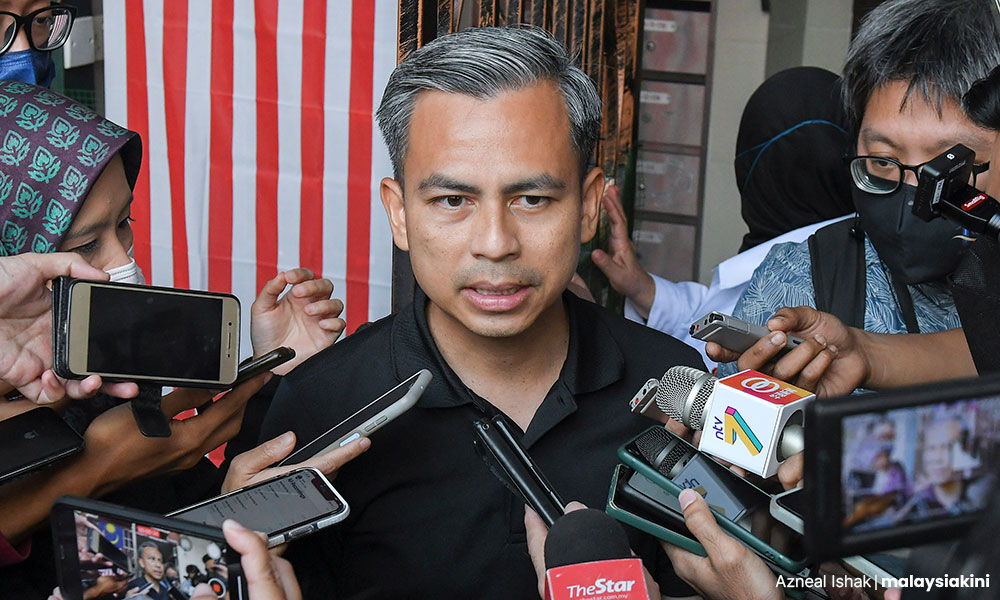 It was no surprise then that a PN official, Dr Afif Bahardin, responded by calling out Fahmi for hypocrisy, saying that there were no transgressive elements in Azman's description which Afif held as falling within the ambit of freedom of speech.
This burgeoning controversy over what freedom of speech allows and what it doesn't occurs simultaneously with Prime Minister Anwar Ibrahim's threat of legal action against a PN member of parliament.
Hassan Saad, PAS MP for Baling, is alleged to have claimed that there was an "Israeli link" to Anwar's appointment as prime minister.
A video of a woman who says that Hassan told her of this "Israeli link" has gone viral.
Anwar's lawyers have demanded from Hassan the whole range of restitutions afforded by libel law – retraction, apology and damages.
Meanwhile, Hassan denied any knowledge of the video.

'Heresy, yes, Insurrection, no'
The cases of Fahmi's call for police action against Azman and Anwar's resort to legal action against Hassan have drawn attention to the issue of what is allowed by freedom of speech and what is not.
Police reports are being contemplated against PAS president Abdul Hadi Awang for calling DAP "Islamophobic" in one of his more recent public pronouncements.
The issue of freedom of speech is one of those instances in the progress of human thought and institutions where clarity is better achieved through knowing what is not allowed than what is allowed.
For example, you cannot cry "Fire" in a crowded theatre even if you are motivated to call attention to the inadequate state of its fire-preventing arrangements.
The progress of the freedom of speech concept is understood to protect heretical opinions, but not insurrectionary ones.
The distinction between the two sets of opinions is that a heretical opinion may be the direct opposite of what is merely taken to be the customary or popular one; whereas an insurrectionary opinion would be to say someone or some entity is anti-something that is regarded by the vast majority of the people as sacrosanct.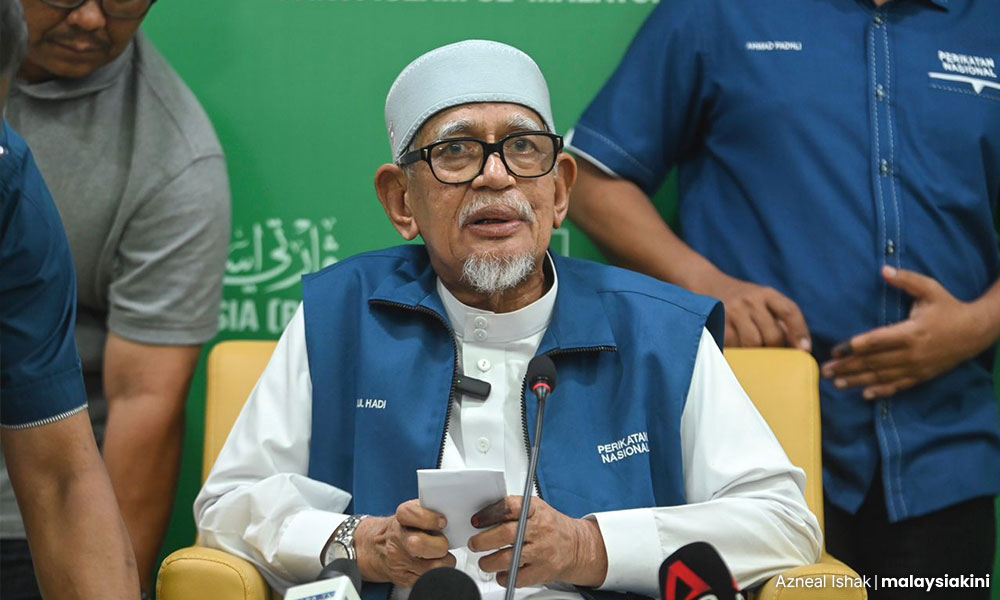 One would think the application of the 'Heresy, yes, Insurrection, no' distinguishing yardstick would judge Azman's remark that the Harapan-BN government is adulterous as permissible; while Hadi Awang's description of DAP as Islamophobic could be assessed as insurrectionary.
The one has merely the potential to rile people to high dudgeon, at the most; whereas the other has the potential to rouse people to hatred.
It is a fraught distinction but it must be drawn for the advancement of democratic societies.
posted by Major D Swami (Retired) @ 10:17 AM

Anwar has bought Harapan time - Commander S THAYAPARAN (Retired) Royal Malaysian Navy
Monday, November 28, 2022
Malaysiakini : This is not so much a unity government but rather a compromise government because Perikatan Nasional has upended the establishment.
The establishment considers Anwar and Harapan (rightly so) the moderate centre-right coalition that would maintain the status quo, instead of the far-right ethnonationalist PN which would turn this country into a theocratic cesspool, thereby pitting Malaysia against its various Southeast Asian neighbours, and drawing Western proxy state actors further into this country.
Anwar not only has to deal with the sheathed (so far) daggers amongst his coalition partners but also balance the expectations of the Harapan base who some have already canonised him as the messiah who would save this country.
Within this coalition government are political operatives who have a great animus against everything Harapan stands for and are embroiled in inter-party power plays which would infect the governing of this country.

They will not be blamed because there would be a mendacious theocratic opposition who blame Harapan and Anwar specifically for failures made by people who want to derail Anwar's reforms agenda and who are most probably aligned with them.
PN chairperson Muhyiddin Yassin said, "PN will play a role as an authoritative opposition to bring the voice of the people to Parliament and ensure the integrity and corruption-free governance of the government is in line with caring, clean, and stable (PN) principles."
This is a cunning strategic move and is indicative of how virulent the opposition Anwar would have to endure. PAS is really calling the shots in PN and everyone knows it.
Now, they can tell their supporters that they would rather not be in a pro-Jewish, commie-loving, anti-Islamic government headed by someone who was not only convicted of sodomy but was also corrupt. Why in that order I will never understand, but there you go.
PN working in concert with people inside the Harapan government will attempt to draw Anwar and the DAP into countless culture wars and portray Anwar as a race traitor because of who he chooses to align with.
The DAP is going to have it extremely rough. For years, the running dog narrative they used against the MCA is going to return to bite them in their behinds like it did when they were briefly in power.
Now, nobody can blame Dr Mahathir Mohamad and the power dynamic in Harapan coupled with Umno and charlatans from Borneo is going to be extremely difficult to navigate the political terrain to strengthen the secular and democratic safeguards of this country.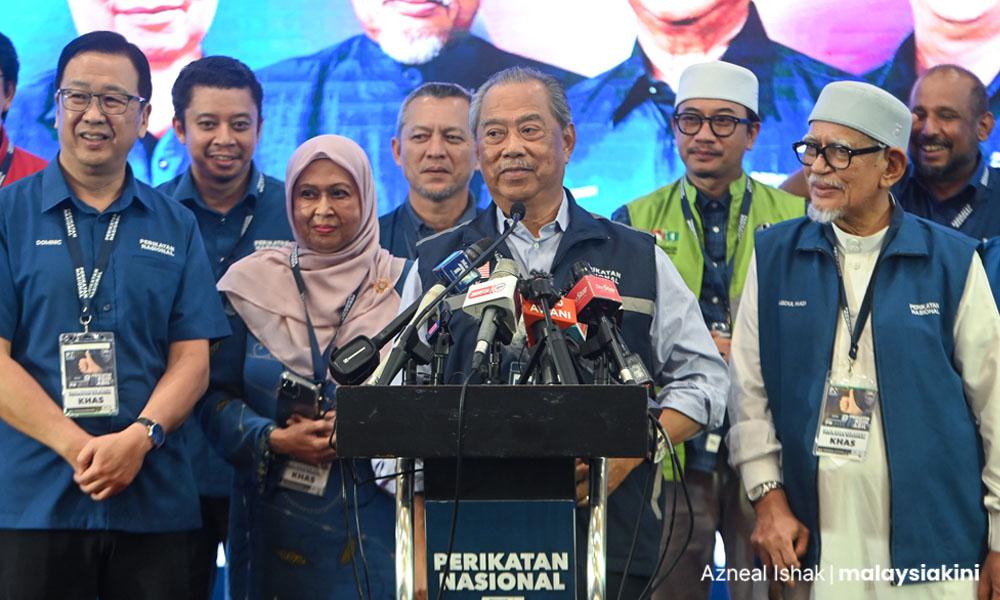 Malay vote
PAS now has the perfect "Malay" opposition unconstrained by the needs or wants of the non-Malays. This is exactly the position they want to be in, as a vox populi of the Malay right unencumbered by any notions of multiculturalism and egalitarianism.
This is why PAS secretary-general Takiyuddin Hassan says this -"This is to respect the trust and mandate of the majority, especially the voters who chose PAS and PN during the 15th general election."
The majority here is the majority of Malays who bought into the anti-DAP, pro-Jewish propaganda used against Harapan and Anwar.
Keep in mind the Sheraton traitors were motivated by the fact that Harapan when it had brief power, was losing the Malay vote.
This was why someone like the disgraced Azmin Ali was talking in the press about being unapologetic about the bumiputera agenda - "We must be brave and not hesitate in fulfilling our promises, especially on the Malay and bumiputera agenda, which is an integral part of the national agenda.
"We must do so without feeling apologetic or fearful of the criticism of others," he said in March 2019.
Yes, Anwar in his first presser assured that Malay rights and Islam would be protected but this will never be enough for the likes of PN.
What PN wants is to dismantle secular and democratic norms (PAS president Abdul Hadi Awang has more or less said this in various ceramah) and would cajole Anwar to do the same.
What they desire is that Malay rights trump non-Malay rights and this could mean anything from Islamic sensitivities when it comes to certain economic sectors and the tightening of our social spaces in deference to Malay preoccupations. Nobody wants to hear this now, but this is the game plan.
To counter the political insurgency of PAS, what is needed is not political bromides and ridiculous propaganda like "Bangsa Malaysia" but rather effective policies on the economy and the environment.
The two are not mutually exclusive and should centre around the kind of policies that include entitlement programmes that favour the poor, young, and disenfranchised of the Malay community, which would necessitate strong federal-level engagement in the rural communities.
Also important (and PN knows this) is electoral delineation and various other electoral arcana, which need to be addressed to curb the unfair weightage of voters and the gerrymandering which favours political groups whose agenda is anathema to democratic norms.
Furthermore, term limits on political operatives need to be addressed.
However, the two most important apparatuses that need a strong presence in positions of power are the state security apparatus and the vast religious bureaucracy because these would be the front lines against extremist strategies.
Keep in mind that PN with its extremist strategies wants a confrontation with the state security apparatus because it makes them martyrs in the eyes of the base and sympathetic would-be voters especially if the economy and environment are tanking.
We need leadership in state security that understands the threats we are facing and sublimate the decades-long racial and religious indoctrination.
In other words, "our boys" understand the regional implications of coddling extremism in this country but can also balance democratic ideas and norms, such as free speech and freedom of assembly. Both of which are political strategies and require strategic federal political responses.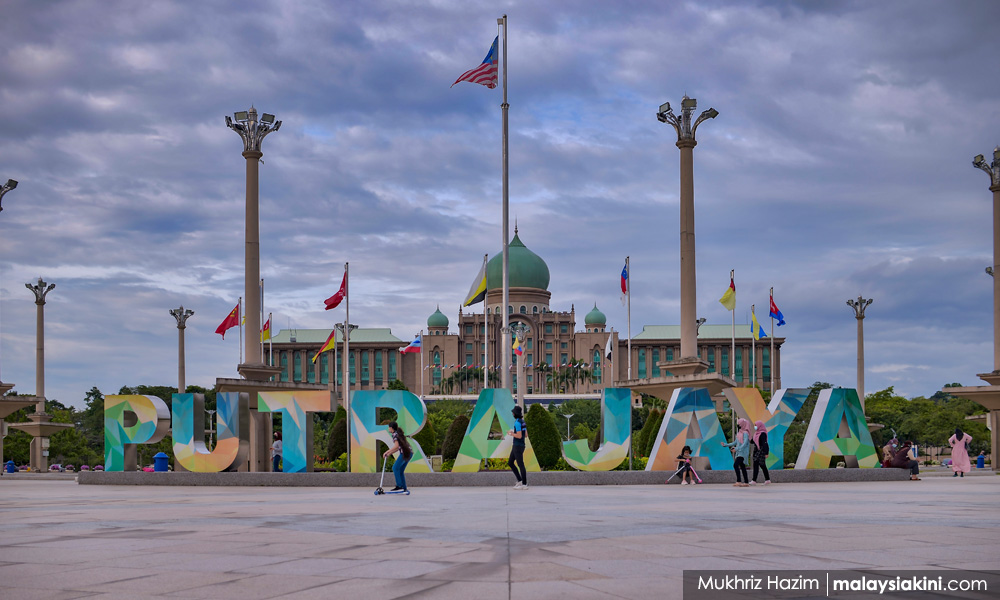 Reform agenda
Meanwhile, the vast religious bureaucracy has to be trimmed, with the money going to underappreciated civil servants who could play a direct part in the reform agenda and this includes not only underpaid personnel of the state security apparatus but the civil service, teachers, doctors, municipal council workers who find themselves on the front lines as they did during the Covid pandemic.
Nathaniel Tan was right about Harapan needing a narrative but what it needs is a Malay narrative because the non-Malay polity is not the target or should be of Anwar's cabinet.
In rhetoric and policy, Anwar has to get Harapan to commit to a Malay-centric reform agenda that does not marginalise or demonise the non-Malay community.
Why spend money on religious programmes when money could be spent on improving infrastructure, healthcare, and education for rural Malay communities?
PAS and PN are gloating that they are a strong Malay opposition and who knows, sometime soon, they could be joined by Umno/BN.
What they are missing is that the Malay demographic who for so long voted for Umno changed their vote to Bersatu and PAS.
The funny thing about people switching their votes is that their votes can switch at any time. The first time is difficult but once done, they could be persuaded to change their vote again.
Anwar as the prime minister of this country should be honest, not only about his Malay-centric agenda but also about the disparate groups within Harapan.
Do not gaslight the public thinking that the echo chambers will guarantee political power. This did not work in the Sheraton Move and it will certainly not work now that the "Malay" opposition has come to fruition.
Harapan needs to be honest, especially when dealing with racial and religious issues, choosing battles that need to be won especially when it comes to secular and democratic guard rails but not be baited by PAS and PN to always demonstrate Harapan's racial and religious bona fides.
This will be a trying time, especially for those of us who fear the direction of the country and who have not bought into the personality cults and propaganda.
It is also an exhilarating time because coalition politics actually means that politicians have to compromise and make deals which ultimately means that a bigger pool of interests could potentially be satisfied.
Some people have said that Anwar is a political chameleon. Irony, like revenge, is a dish best served cold.
Anwar has to appeal to a broad spectrum of potential voters while appearing to satisfy specific interest groups. This could be a game Anwar plays well, provided he has the support he needs and the messaging is on point.
There are positive paths this country could take but it all depends if Saudara Anwar is not easily spooked.
posted by Major D Swami (Retired) @ 9:10 AM

Media's role to keep new regime in check By R Nadeswaran
Saturday, November 26, 2022
Malaysiakini : From the witness box, Tong gave specific instances of how The Edge was threatened by those involved and associated with the world's biggest theft of public money.
His testimony, often candid, also encompassed how instruments of the state were used to harass him.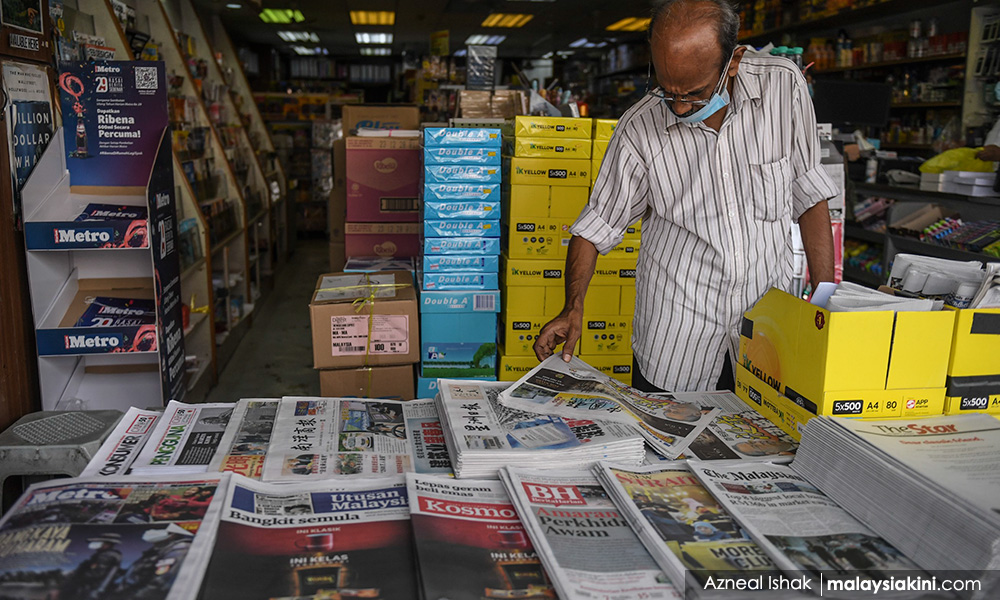 Answering questions from lead prosecutor Gopal Sri Ram, he said: "The Edge wrote more and more reports. But each time we did it, there was more and more pressure on us from the various state apparatus, whether they be barring me from leaving (the country), or income tax raid, or police questioning, and so on and obviously, the suspension of The Edge and arrest of (CEO Ho) Kay Tat and (The Malaysian Insider CEO) Jahabar (Saddiq) and so, and put that together with the threat that was already coming from Paul Stadlen, it appears that someone was trying to stop us, yeah."
Stadlen, then-prime minister Najib Razak's media adviser, told Tong that the Prime Minister's Office was "all-powerful" and that The Edge should be careful about its coverage of 1MDB.

Singing Najib's praises
Tong was not the only publisher who was harassed. Officials from most media houses and selected editors attended regular "briefings" at which they would be "advised" on the line they should take.
Often, word would trickle down from the fourth floor of the PM's Office that no negative reports should be published by local newspapers.
Some of them would write commentaries demonising those who exposed the sham and join the sycophants in praising Najib. It did not stop there. They went further trying to show their closeness to the establishment by publishing photographs with Najib on social media.
They have since "turned" and have written glorious pieces on "justice has been done" after Najib was sent to prison. A few hedged their bets – remaining silent.
Such clampdowns and diktats were not restricted to just the media. They included government officials and ministers. Instead of revealing the truth, they not only were hushing them but some partook in spinning.
Many were singing praises of Najib and one smart alec even created a new angle to the 1MDB fiasco – "The scandal does not exist. It is an attempt by the opposition and foreign powers to overthrow the democratically elected government of Najib."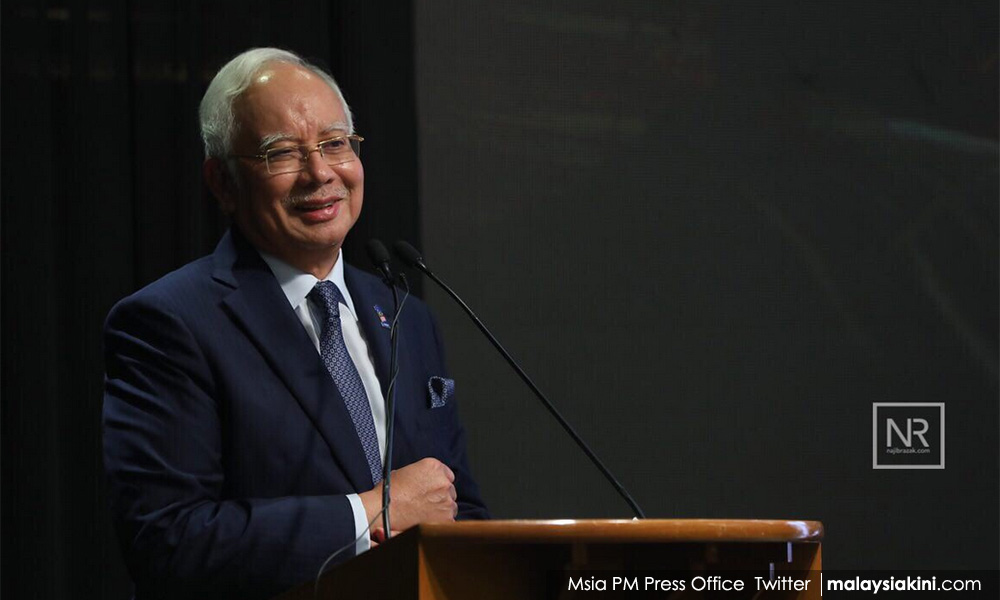 Amid this, there were a few lone voices - the opposition and the advocates of good governance. They expressed their repugnance towards the state of affairs in a series of blogs and videos.

When these did not work, the long knives were out and no one was spared. Readers will remember how then-Attorney General Gani Patail was unceremoniously removed and the then MACC chief commissioner Abu Kassim Mohamed was prematurely sent to pasture.
'The press failed the people'
At a recent book launch, Johan Jaaffar, the doyen of the media industry, lamented the state of affairs when the 1MDB scandal broke.
"I have been asking a series of questions pertaining to what actually happened. What is the role of the journalists under such circumstances? Why did most of us fail to voice our concerns when the scandal was unfolding? Very few among us sounded the alarm even after facts and figures were revealed by The Sarawak Report.
"Many among us were just ignoring the elephant in the room. We knew something was not right. Perhaps many were not privy to the details, but as one expose after another unfolded and some opposition leaders at the time harped on the issue relentlessly at the Dewan Rakyat, many among us were unconvinced, or worse decided to close one eye."
The press, he said, failed the people and betrayed the trust of readers, viewers, and listeners, adding that many, especially in the mainstream media, chose to ignore the facts, which is against the very thing that we are supposed to do – to be the eyes and ears of the people.
Readers will recall the infamous TV programme in which pliant editors "interviewed" Najib on television and declared he had done no wrong, while in faraway Thailand, a whistle-blower had to cool his heels at the notorious Bangkok Hilton.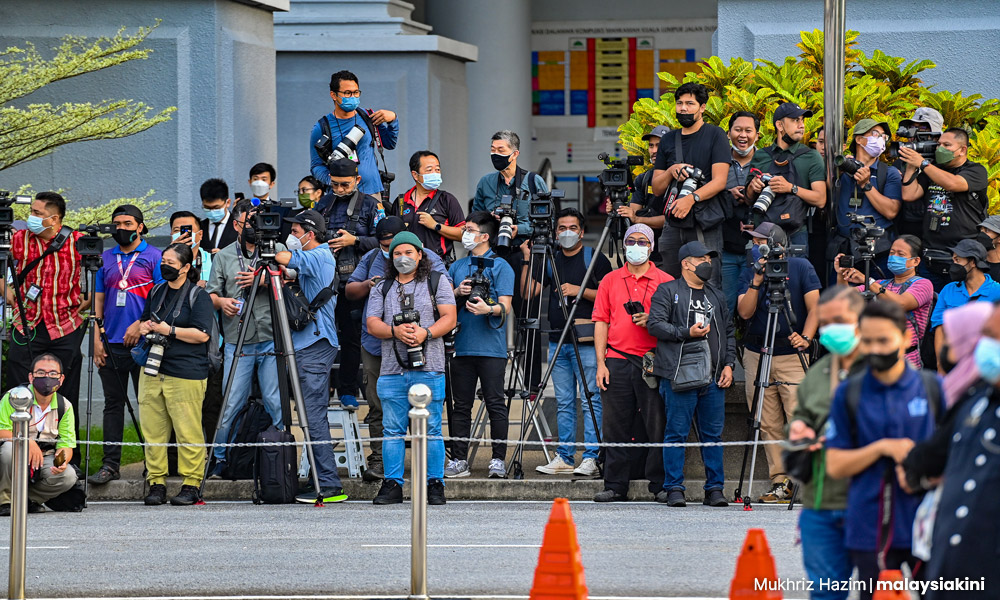 But the saving grace was that there were a few brave voices – a few individuals in the media, opposition leaders, and advocates of good governance. They expressed their repugnance towards the state of affairs openly, incurring the wrath of the people in power.
Now, with a new government and a new prime minister who has promised openness and accountability, the media should ensure that similar shenanigans will not be repeated and the people will not have to be burdened by the theft of public money.
We have seen several journalists pandering to the newbies in government but if similar corrupt incidents surface and if the instruments of the state are misused, they have a duty to tell the truth. Let not history repeat itself.
posted by Major D Swami (Retired) @ 12:03 PM

From political prisoner to PM; but Anwar faces bumpy ride ahead By Mariam Mokhtar
Friday, November 25, 2022
Malaysiakini : Both Muhyiddin and Hadi are bankrupt of new ideas and are clueless about propelling Malaysia forwards.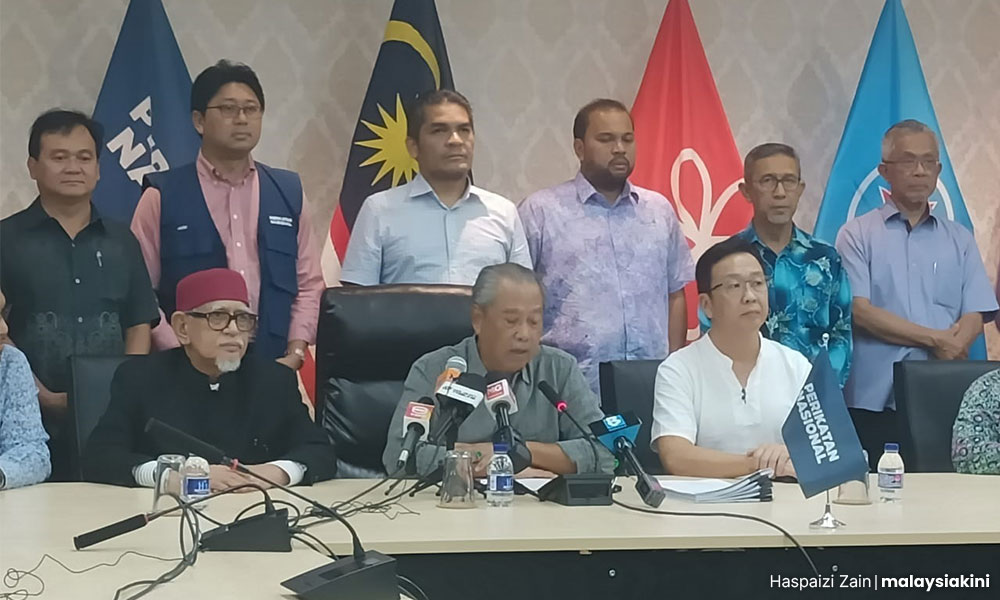 Two years ago, Muhyiddin used the emergency and the coronavirus pandemic to consolidate his power, whilst Hadi does what Hadi does best. He used the pulpit to further divide the nation with his brand of conservative religious teachings.
Although Anwar faces huge challenges to rescue Malaysia from religious and racial extremism, and economic decline, he will get no free pass from some of us.
Nevertheless, older Malaysians who lived through the 1970s and 1980s will find that Anwar's rise to power is full of many little ironies.

Clearing up the mess
Anwar spent 16 years in Dr Mahathir Mohamad's first premiership, of which 15 was spent in the cabinet, as minister for education, culture, youth and sports, agriculture, and finance.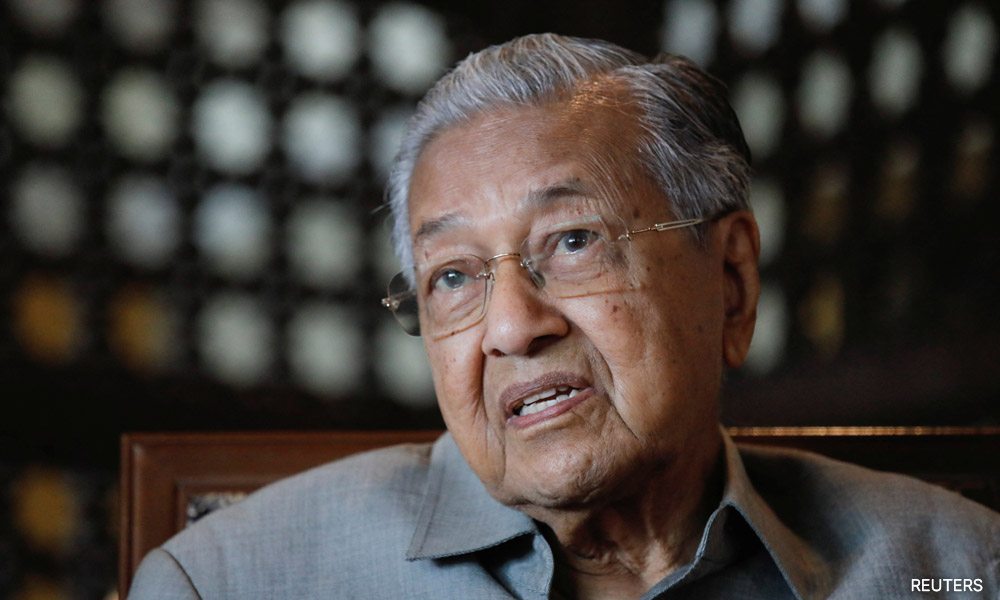 Successive PMs did nothing to reverse the slide and stop the wrongdoings under Mahathir, like cronyism, corruption, and racism. They merely perfected Mahathir's techniques.
The irony is that Anwar must now clear up this mess, with less money available in the kitty, increased borrowing by the treasury and a rakyat desperate for public aid, and expecting immediate results from reform.
Will the rakyat understand that these problems cannot be resolved within a matter of months or even years? They wrongly assumed 22 months was ample time for Harapan to clear up 63 years of Umno's mess. It is not like pressing the reset button on a computer.
The rakyat may give Anwar time, but Muhyiddin and Hadi will do their best to seize power back.
When rebuilding Malaysia, Anwar has to counter Bersatu and PAS' 3Rs with the three Es. The economy, education and getting rid of extremism.
Hunger
In the 1970s, Anwar, the student leader, led protests to highlight the plight of the starving rural poor, and impoverished rubber tappers of Baling, Kedah.
Anwar probably had a strange feeling of déjà vu in 2022, as he must again address both rural and urban poverty, and help starving Malaysians whose lives and jobs were affected by the depressed economy and the Coronavirus pandemic.
He must act fast. A hungry rakyat may quickly turn hangry.
The genie that was let out of the bottle. The 1979 Iranian Revolution led by Ayatollah Khomeini reverberated around the world with the Islamic resurgence shocking many people, including Mahathir, the then PM.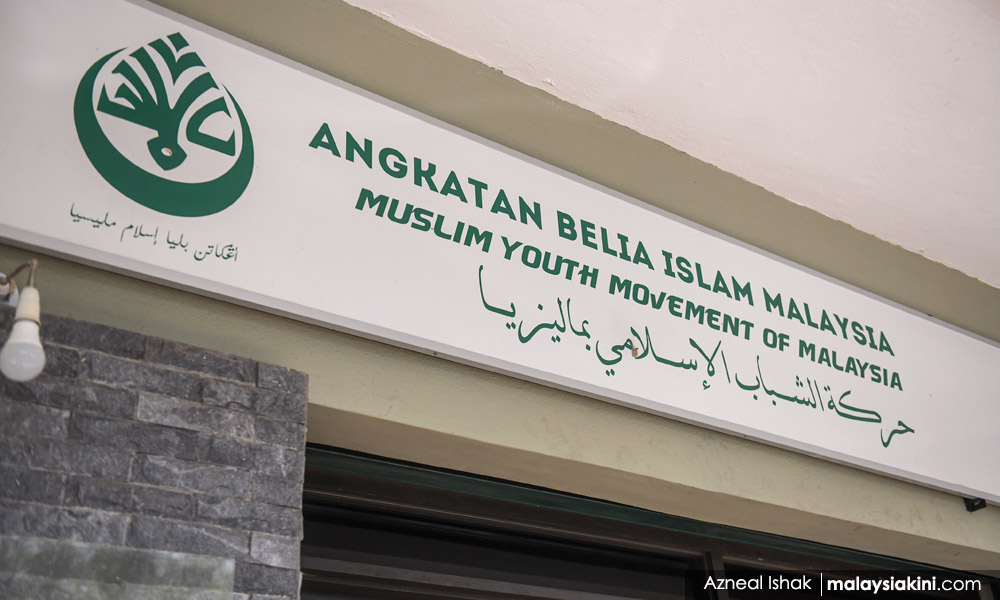 In the early 1980s, Umno MPs in Kedah warned Mahathir that Umno faced defeat at the polls from an energised PAS. Acknowledging the PAS threat, he hand-picked the then-leader of the Muslim Youth Movement of Malaysia (Abim), Anwar, to give Umno a religious facelift. It worked.
By 2022, the extremism, which Mahathir and successive Umno PMs left unchecked, had become an insatiable monster.
The irony is that Anwar must stop the rise of extremism before Malaysia becomes yet another intolerant Islamic state, like Afghanistan or Pakistan.
Education
As PM, Mahathir wasted no time industrialising Malaysia. Whilst he was busy building skyscrapers and factories, Anwar was tasked with countering the PAS threat. He was responsible for the Islamicisation of the country, in particular the civil service and the education system.
In 2022, it is highly ironic that Anwar must undo the Islamicisation process, which he initiated before further damage is done.
Today, Little Napoleons wield unnecessary power with their own interpretations of the dress code, speaking English is not seen as patriotic, STEM (science, technology, engineering, and mathematics) subjects are ignored whilst Islamic studies dominate the school timetable, and some English teachers in government schools are so bad, that many students 'improve' their English by watching Western programmes and music videos.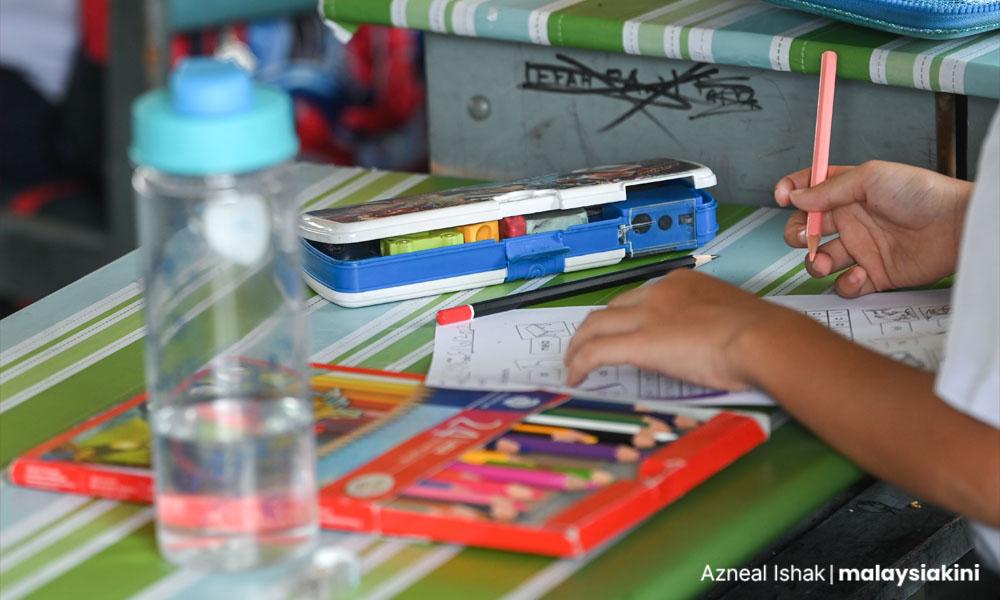 Nationalists want to ban vernacular schools, but say nothing about banning international schools and the mushrooming tahfiz schools.
Anwar will need a firm, but a thick-skinned and knowledgeable person to be his education minister, who must also be sensitive to the needs of the Malay/Muslim electorate. Could that person be Rafizi Ramli? A non-Malay would find this job impossible and feel as if he is walking on eggshells.
What goes around comes around. When Mahathir invited Anwar to join Umno in 1982, he killed two birds with one stone. Student protests stopped, whilst Islamicisation work on the government progressed. When Anwar became more popular than him, Mahathir then tried to destroy Anwar.
The irony is that 40 years later, Mahathir was humiliated at GE15 when he lost both his seat and his deposit. It must have been painful for him to watch Anwar being installed as Malaysia's 10th prime minister.
The nationalists live in their own bubble. They were probably unaware that the Malaysian stock exchange and the ringgit jumped after Anwar was appointed 10th PM, and messages of congratulations from world leaders flooded Putrajaya.
Some politicians who lost in GE15 will be vindictive. Is there a mechanism in place to stop power-hungry politicians like Mahathir, Najib Abdul Razak, Muhyiddin and Hadi, and destructive speakers like Azhar Azizan Harun, from creating havoc, making a mockery of democracy and destabilising a nation?
posted by Major D Swami (Retired) @ 12:34 PM

Finally, it's your turn now, Anwar By P Gunasegaram
Malaysiakini : Who would have thought you would become PM nearly a quarter of a century later? Especially when you graciously teamed up with your sworn enemy Mahathir - the one who in a fateful act of poetic justice in this election humiliatingly lost his deposit - to oust the world's greatest kleptocrat and defeat the mighty BN/Umno for the first time ever in 2018.
But Mahathir viciously stabbed you in the back again, breaking his promise to let you become PM as did Muhyiddin Yassin and Azmin Ali (who lost this time) - the three traitors, I called them. Almost everyone wrote you off after that. And there were anxious moments when Muhyiddin (the Hobson's choice in this election) had the edge but lost, ironically, over statutory declarations.
But you have persevered and now, by a quirk of fate, luck and an eventual display of fairness by all, you are PM. You more than anyone else know it is a heavy responsibility, an enormous burden you must bear with care and discharge with utmost delicacy. A nation's hopes and aspirations rest on your shoulders and you simply cannot disappoint. We had too much of that in the last few decades.
Here are some suggestions I have for you. I hope they are useful.

1. Stay in touch. I believe prison has taught you much, especially humility. If you want to change things, you must know what the situation is now. That means listening to real voices. Especially, don't ever lose the common touch again.
2. Fight corruption. Many will tell you to compromise - as they did with Abdullah Ahmad Badawi many years ago after his unprecedented victory in 2004 - followed by a resounding setback in 2008.
But you really don't have to succumb - those who ask you to are probably corrupt. You have the power as PM. It is vital that you do act against corruption but tread carefully. Don't go on a witch hunt and destroy that which is good a la Daim Zainuddin, the second time under Mahathir.
Your coalition partners can't tell you otherwise. Publicly, all of them don't want corruption.
3. Take your time. You have five years if all goes well. You are under pressure but you can take your time for a bit, to plan, to determine your key people and whose advice would be best, amongst many others.
4. Reflect before you act. There will be times when you need to react quickly but most of the time, there is time to ponder, to think and to consult the right people before doing something. Very few things need to be done in a great deal of haste.
5. Surround yourself with good honest advisors. There are many in your own party and I dare say some among your former enemies. But make sure they are good, honest and competent. Take the time to listen to them, really listen.
6. Choose a great cabinet. Despite political constraints, there are many people you can choose from on both sides of the divide. But use your discretion. The only two considerations are integrity, first and foremost, and ability. One without the other is a recipe for disaster. The greatest danger is a competent crook.
7. Distance yourself from business and businessmen. You know what I mean. Surely you must know that people don't always want to be close to you because they wish you well. The bottomline is they want favours. Learn to separate the wheat from the chaff, that's one of the things you must do.
There are too many people out there who want to make use of those in power and especially a prime minister and they invest much time and effort to get there. Listen to them by all means but to others as well, especially opposing views.
Never, ever become beholden to them and take nothing material from them.
8. Set your priorities. There is much to do. Almost too much. We all know the priorities - checking rising prices, the economy, education, social cohesion, health, environment, inclusivity, fairer wages etc. Set them and be firm. Give targets and deadlines and monitor them.
9. Do not give us too much too soon. Don't go the populist route, not too much subsidies, not too little taxes. We need to tighten here and there but explain to us your plans and programmes. Win us over with solid arguments and reason and we will not only understand but support you.
10. Finally, be true to yourself. That means you must be true to us, fellow Malaysians. Remember, your only obligation as PM is to all Malaysians no matter what their creed, race or religion. After all, as you have said many times yourself, that's what your religion teaches you.
Sir, you are the prime minister now. You have great power and with it comes great responsibility. In the next five years, please make us proud of you.
I wish you well in your endeavours for us as do all Malaysians. You have made a great start with your first press conference as PM yesterday. No Malaysian cannot not like what you said last night. Now, it's time to match words with action - but like I said, take your time. Not too much though.
Finally, it's your turn now, Saudara.
posted by Major D Swami (Retired) @ 10:27 AM

To stop Anwar, PN will slay sacred cows - Commander S THAYAPARAN (Retired) Royal Malaysian Navy
Wednesday, November 23, 2022
Malaysiakini : There is a reason why I opened this piece with the above quotes. It is to remind everyone, Muslim and non-Muslim alike, that the fringe elements of religious and racial bigotry in this country are the defining characteristics of PN-PAS.
Leaders from PN will surely publically disavow such statements but the reality is that the extreme ideas of this country have become so normalised and the economic and political structure crafted by Umno so debilitating to the average rakyat, that these ideas are dismissed by people who voted for PN-PAS because they believed they were voting for change.
I have repeated this ad nauseam in articles running up to the election that this election was a choice between religious extremism and a flawed democracy.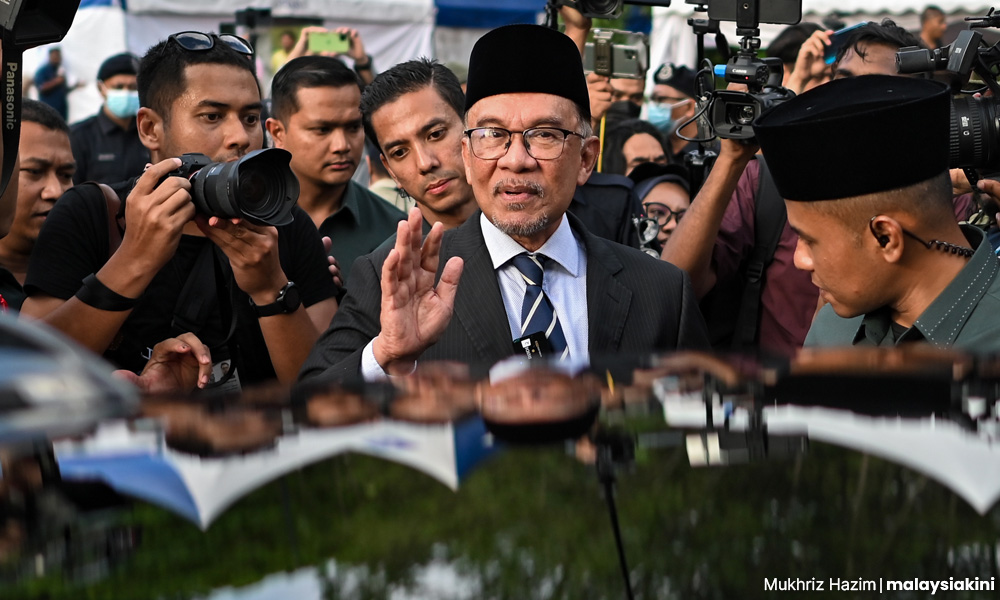 I also repeated ad nauseam the strategies of PAS and how the post-election milieu would be defined by religious instability.
I always warned that Abdul Hadi Awang and PAS were the existential threat facing this country and that recovering from a kleptocracy was far easier than recovering from a theocracy.
So, yes I have no problem with Anwar Ibrahim attempting to find allies with anyone, as long as PN and PAS are thwarted.
Now, I am not being flippant when I say this. People voted for PN-PAS and this is what we are dealing with.
There is a difference between majoritarian imperatives and democratic imperatives and what we are dealing with here, especially as non-Muslims/non-Malays is the prospect of PAS-PN further destroying the country with crude majoritarian tactics and plunging everyone into a black hole of religious delirium, all the while the elites from PN-PAS will be slurping from the diminished gravy train.

Ignoring a royal plea
And to stop Anwar, PN and PAS are willing to slay sacred cows of Malay/Muslim institutions because as I have argued before, these are the agendas of the deep Islamic state and the religious industrial complex.
Remember how the royal institutions were the apogee of Malayness and we were told that Harapan especially the DAP were always attempting to defy this institution.
Well Muhyiddin Yassin, the desperado, is doing just that by ignoring a royal plea for a unity government.
What this does, is normalise the rejection of royal advice in the PN base. Muhyiddin is telling the PN base that no matter what the royal institution advises, the feelings of the base take precedence.
Ordinarily, this would be something I could get behind, but in this context, what this does is further ideas that racial and religious superiority is no longer tempered by an institution we were told is for all Malaysians but in reality, was used as a cudgel against the opposition.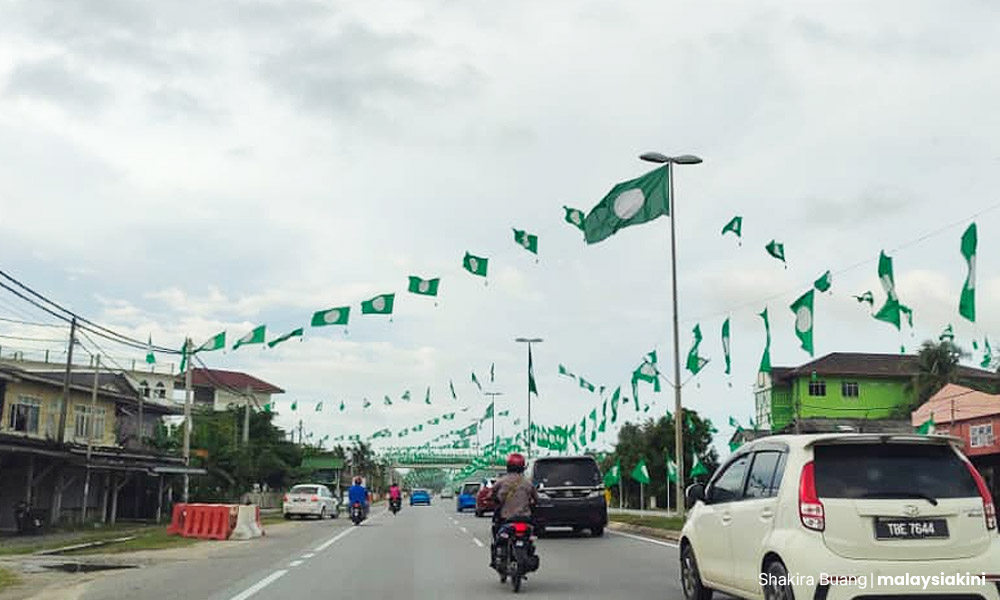 This is why PAS for instance defies royalty when it comes to the Bon Odori festival.
May 13 was another sacred cow, in the sense that the social contract was predicated on everyone knowing their places less another May 13 occurred. Well so much for that.
Apparently, Tik Tok is cracking down on May 13 narratives, while the state security apparatus wags its fingers but does not do much else.
Now I am not blaming PN for this, but keep in mind, PN/PAS' whole political narrative is based on the fact that the Chinese DAP are attempting to usurp Malay power through Anwar. So you do the math.
But the biggest sacred cow was this idea that a dominant Malay party like Umno for instance was needed to maintain religious and racial harmony. All this has gone out the window.
With PN/PAS, the corpse of multiculturalism lies bloated on the ground post-election. There is no pretence that they are a government in waiting for all Malaysians.
Rather what we have is a government in waiting based on religion and racial hegemony and nothing else.
Harapan has found a way of working with BN in certain states and all that is fine and good. At this point, maintaining some kind of political and religious moderation even in a flawed hypocritical manner is better than letting the religious extremists run states because we have all seen what PAS and Bersatu are capable of when running a state.
Actually, we have seen what they are like when running the country.
I sincerely hope that Anwar, by hook or by crook, gets the throne in Putrajaya and attempts to at least start the process to ameliorate the decades-long abuse the system has gone through.
As far as I am concerned by hook or crook, this is all PAS and BN deserve.
I will worry about hypocrisy when my rights as a citizen of this country which I had the privilege of serving are no longer threatened by religious extremists.
posted by Major D Swami (Retired) @ 5:51 PM

Why does a majority race fear minorities? By S Vinothaa
Malaysiakini : A politician who kept his word
The last time religious politicking flared uncontrollably in Indonesia was in 2016, when Islamist-inspired political protests led to the jailing of the former governor of Jakarta, Basuki Tjahaja Purnama - popularly known as Ahok but who now wants to be called BTP.
Among the hardline Muslim groups responsible for the amplified identity politicking and religious fear-mongering during the 2017 run-up to the gubernatorial election was the Islamic Defenders' Front (FPI), which had been campaigning against Basuki since he first took office in 2012.

FPI and other hardline Muslim groups peddled anti-Chinese and anti-non-Muslim rhetoric that was circulated widely on social media.
Basuki was harshly sentenced to 20 months in jail for blasphemy and was released early on good behaviour in 2019.
Meanwhile, Indonesia's President Joko Widodo (Jokowi) kept the promise, he made in 2017, to "clobber" any group threatening to destroy the country's treasured tradition of pluralism and moderate Islam.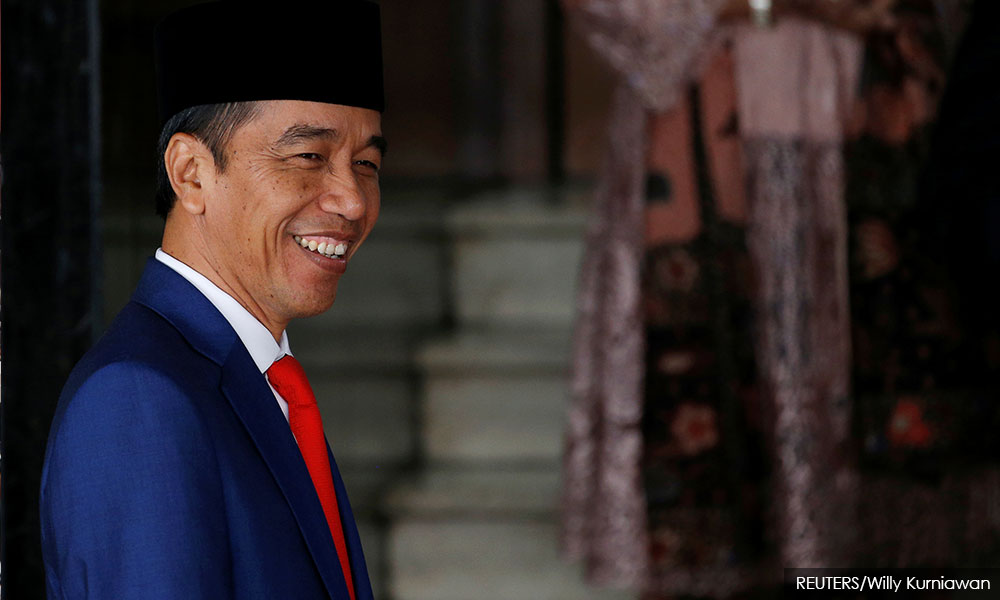 The FPI was outlawed in 2020 and its leader Rizieq Shihab was jailed in 2021 for spreading false information about Covid-19.
This year, the outlawed FPI's former secretary-general Munarman, who has been accused of rallying support for the terror group, Islamic State, was sentenced to three years in jail for consciously aiding terrorist actors by concealing information on terrorist acts.
Seven years have passed since 200,000 Indonesians marched in Jakarta and other cities in the country protesting allegations that Basuki had been insulting Islam.
The event served as a lesson for the urgent need to curb extremism - one that Jokowi took seriously.
He dealt with those fanning the flames of hatred and went one step further by constructing a tunnel of friendship that connects two places of worship, in the middle of bustling Jakarta, which also serves to address parking woes in both premises.

The state-of-the-art underground tunnel that connects the largest mosque in Southeast Asia, the Istiqlal Mosque, and the St Mary of the Assumption Cathedral across the road, was dubbed "silaturahmi tunnel" by Jokowi.
Silaturahmi is an Islamic term that means brotherhood.
Muhyiddin reverts to type
But unfortunately, in Malaysia, it is the very people who are supposed to be protecting the nation, especially the minorities from religious bigotry, are the very people who foment hatred in the country.
This was frighteningly evident in the content of campaign speeches in the lead-up to the 15th general election (GE15) that took place on Nov 19.
One speech that sent ripples of anger across the country was when Perikatan Nasional chairperson Muhyiddin Yassin alleged the attempted "Christianisation of a country" with a sense of foreboding.
Muhyiddin, a former prime minister, later claimed his speech was taken out of context but he never attempted to clarify the contentious parts. He could not have been talking about the stability of a multi-racial nation of varying faith.
He also did not offer proof that the opposition coalition, Pakatan Harapan, was working with Jews and Christians to colonise the country when it was in government - as he had alleged.
Muhyiddin, a career politician who had served as minister of various ministries since 1995, was dishing out falsehoods as conceivable hearsay and had his electorate eating out of his hands.
He fell to the usual practice of unsubstantiated denials, typical of Malaysian politicians that usually entail feeble claims of either (1) their words were taken out of context and (2) they were vilified by the opposition.
Why would a responsible, dignified and strong leader even have to talk about the imminent threat upon the dominant religion in the country in his election campaign speech if not to instil fear in the Malay-Muslim electorate that the country was threatened by Christians and Jews taking over its already plundered coffers?
Was the 75-year-old gripped with the insecurity of losing that he would risk disqualification by peddling hate speech in order to sway the electorate in his favour?
Unfortunately, what's more disturbing is that Malaysia has become a nation where the majority Malay race can so easily be swayed into fearing the minorities, despite having laws in place that provide sufficient protection against proselytising Muslims.
Muhyiddin won the Pagoh parliamentary constituency by 10,000 votes and will serve his seventh term there.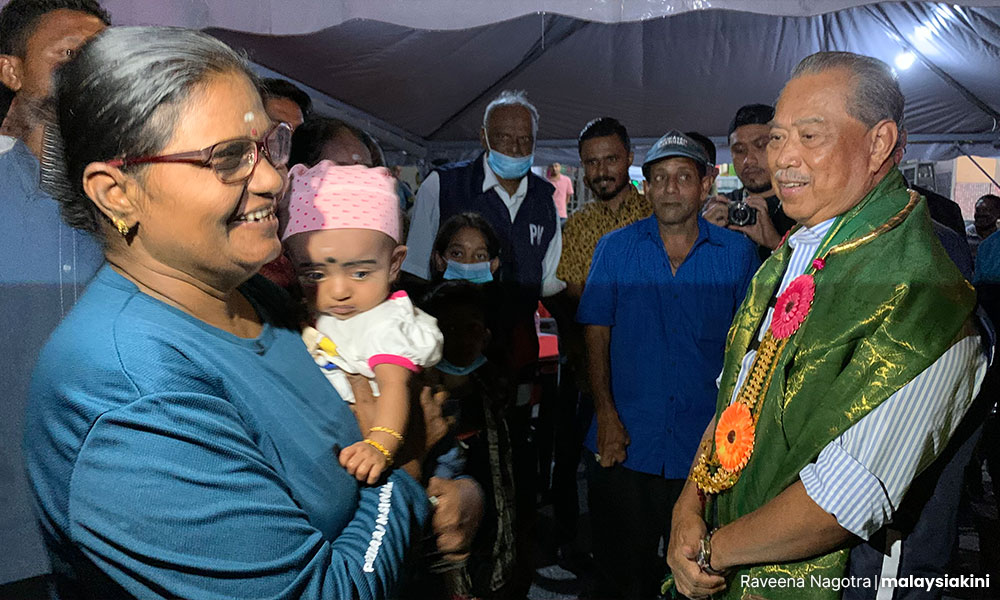 However, his victory is contentious and PKR deputy president Rafizi Ramli has threatened to file an election petition against the prime ministerial candidate for PN, which could lead to Muhyiddin having to vacate the seat.
It also begs the question of the calibre of the prime ministerial candidate that was put forward by the PN coalition and if inclusivity and racial harmony were considerations for him and the component parties.
Islamic extremists loom over the electorate
Similarly, PAS has been peddling hatred on social media, with their attention honed in on the DAP.
DAP is a component party of the strongest coalition, Harapan which garnered the highest number of seats (82 seats) in GE15, although not enough to form the government with a simple majority.
Meanwhile, PAS is a component party of Muhyiddin's PN coalition of parties that also includes Gerakan, a liberal political party for which the primary source of support comes from the country's ethnic Chinese.
In GE15, DAP was PAS's biggest threat, winning 40 parliamentary seats, coming in a close second to PAS' 44.
The party has constantly been targeted with anti-Chinese sentiments and hateful labelling as being supporters of communists.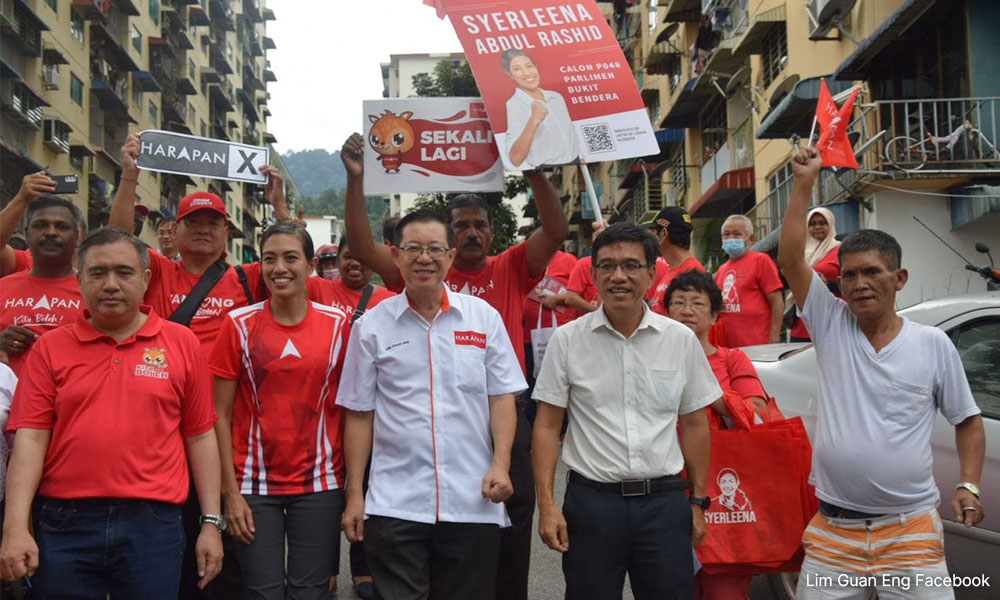 Meanwhile, the real communists - the Communist Party of China - are already in the country, setting up businesses, trading with Malaysian state and federal governments, constructing the LRT3 project and exporting river sand and other minerals back to China for its construction industry.
The Communist Party of China is celebrated by all the former prime ministers and even more so by caretaker minister Hishammuddin Hussein, who, on a 2021 trip to China as the foreign minister, said that the communist nation will always be "Malaysia's older brother".
This noted hypocrisy is camouflaged with racial and religious rhetoric that keeps the electorate preoccupied with the fear of the minorities who, by some miracle according to PAS, are able to deprive the Malays of their religion and prosperity that is rightfully theirs.
In the days that followed the inconclusive GE15 results, social media was flooded with dangerous posts inciting racial hatred while Harapan chairperson Anwar Ibrahim negotiated with BN to possibly form the federal government.
These tactics to sway new voters are causes for concern, especially when a local actor boasted at a PAS event how he would happily slaughter kafir harbi if not for the laws that prohibit him from doing so.
A turning point for Malaysia
Today (Nov 23) is the fourth day after GE15. Malaysia is still without a government but the Yang di-Pertuan Agong has given the Harapan coalition the opportunity to form a government that is inclusive.
In the days following the elections, when Harapan appeared to be negotiating with BN, Anwar was clear that he would not interfere with court cases but what caused the negotiations to stall is still not clear.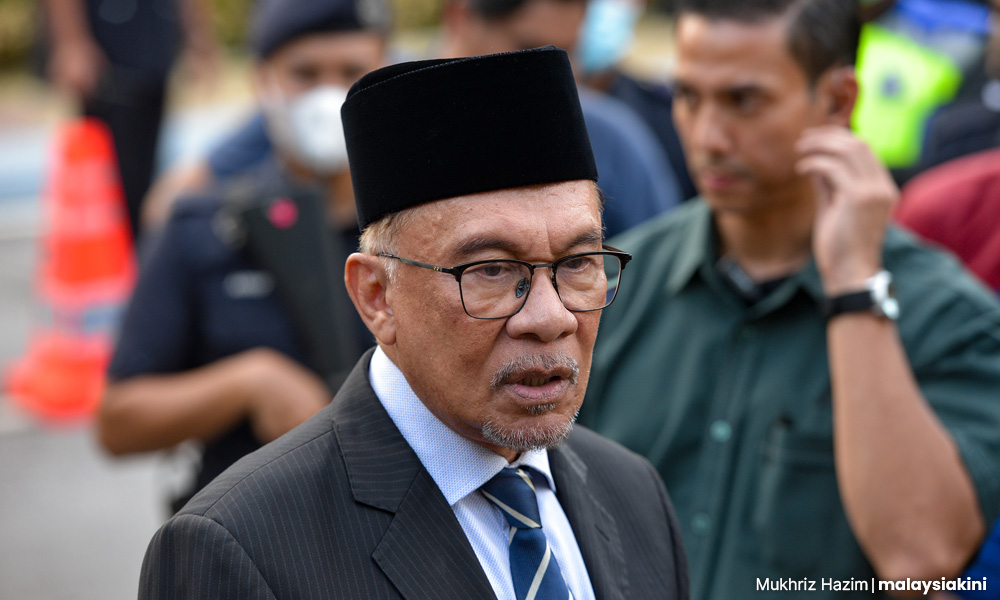 Harapan has 82 seats in Dewan Rakyat but needs at least 112 seats to form a government.
While Harapan has formed the state government with BN in Perak, the country needs a stable federal government to forge ahead without being derailed over and over again - just like what had happened in the past two years.
Although Harapan has expressed its willingness to sit down and negotiate with any coalition or party wanting to join it for a stronger presence in government, a pact with the PN coalition may well be out of the question where PAS, as the party with the highest number of seats in that coalition, was dictating the terms.
More importantly, in order for Malaysia to ride out the impending waves of inflation and climate disasters, the country needs a leadership that does not resort to cowardly tugging at racial disharmony or governing with undertones of religious bigotry nipping at the seams of the fabric of this society.
posted by Major D Swami (Retired) @ 9:36 AM

Hadi is laughing all the way to Putrajaya - Commander S THAYAPARAN (Retired) Royal Malaysian Navy
Monday, November 21, 2022
Malaysiakini : What we are dealing with here is the long game. The fruits of the labour of the vast religious bureaucracy and how it has shaped a generation of young people that race and religion, are the sole determinant for political power.
This is why, even when Harapan was briefly in power, I was vehemently opposed to the enabling of the religious industrial complex because, ultimately, it served the ethnocentric narrative of this country which the mainstream political establishment (which includes the opposition) embraced because the Malay political establishment did not want to spook the Malays.

While urban polity has been in their echo chambers, the religious industrial complex has defined "Malay" culture and preoccupations from entertainment to commerce and has normalised, especially among the young people, ideas that are anathema to secular democratic norms.
They have done this not only through social media but also through mainstream media organs, the alternative press by "useful idiots" (a cold war term) and of course a compliant opposition, fearful of spooking the Malays.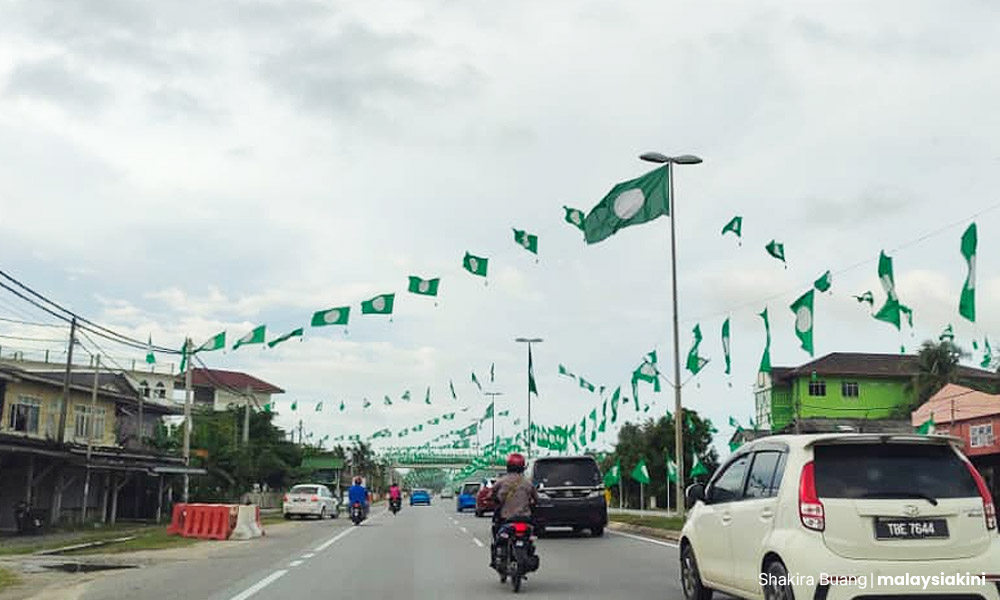 The idea that PAS was a joke in the recently concluded election was a dangerous idea that fed into the victim ideology of PAS – and PN for that matter – and proved to be disastrous for Harapan.
PAS' propaganda is far more sophisticated than Umno's and Harapan's and displays a keen understanding of how Malay society works.
If anything, PAS has evolved - not ideologically - when it comes to courting the Malay vote, having learnt much from its partners since becoming mainstream.
PAS grassroots activists helpfully showed me the kind of propaganda that PAS put out, which was impressive in its sophistication.
Most of it was done by instant messaging and it was quite brutal in the way it clearly defined the PAS and PN struggle. This was no waffling narrative.
PN the logical choice
Everyone talked about the youth vote going to the progressive forces in this country, but in recent elections, they have proven unreliable or going towards parties like Bersatu and by extension PN, rather than being the manna from heaven for Harapan.
Some in the PAS intelligentsia told me that what PN offers is a tabula rasa from the corruption of Umno.
What they "promoted" is a rejection of a corrupt Umno and a Chinese insurgency through Anwar Ibrahim.
So if you do not like Umno and you are afraid of the DAP, then the logical choice is PN, which not only has the experience of running the country during a pandemic but whose leader Muhyiddin Yassin's olive branch was rejected by an arrogant non-Malay dominated coalition.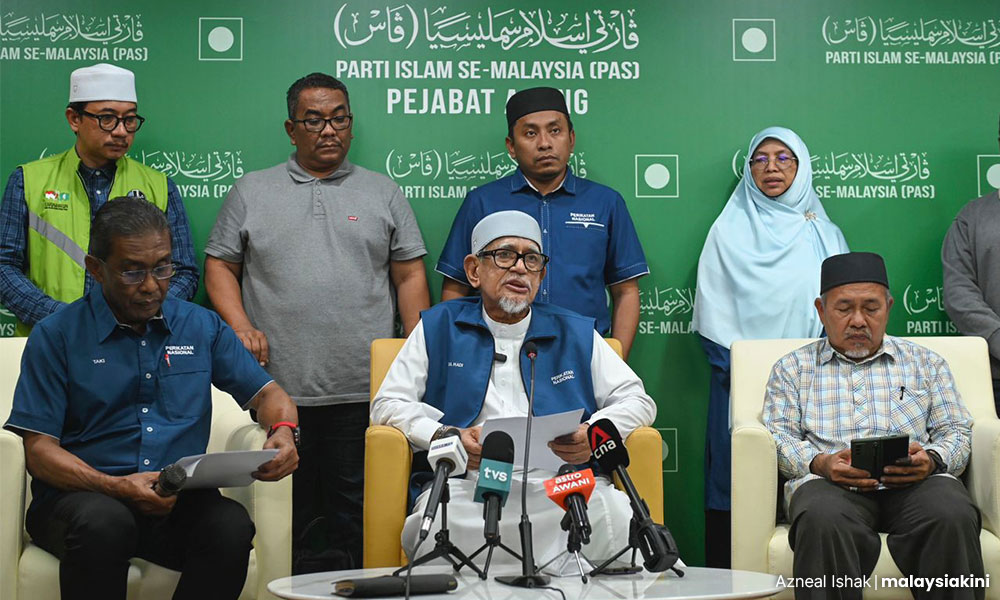 By pushing this narrative that it does not need to win elections - as Hadi has said numerous times - or that it only needs God to win elections, this plays well with a growing number of disenfranchised within the Malay community and absolves PAS if they lose.
Furthermore, Bersatu's position as an alternative to Umno's corruption reinforces ideas among the young people that a party that has experience is a safe bet, especially during these trying times of geopolitical uncertainties.
PAS and PN are now free to define their version of moderation without having to rely on non-Muslim input to craft a narrative which resonates with their ever-growing base. And, depending on who they hook up with, they will make the necessary concession understanding that a weakened Umno does not pose a threat and Harapan will be cowed because they assumed that they had this election in the bag.
The PAS president understands that he will be vilified by non-Malay political operatives, but he also knows that when it comes to actual policymaking, his rhetoric and that of his base have a profound impact, even if in terms of representation, PAS was negligible, especially in the federal government.
How this has changed? All the hard work, the normalisation of religious narratives and the enabling of the religious industrial complex have created a political terrain in which PAS thrived.
Openly disagreeing with the Selangor sultan and calling for state theocratic rebellion against the sultan, when it came to the Bon Odori festival, was a way of flexing PAS' muscles.
The fact that there has been no sanction from the royal institution is indicative of the growing power of this theocratic party.
With GPS claiming that it will form a coalition with PN, BN and GRS, the terrain is shifting in PAS' favour even more. It remains to be seen if all parties agree to this or whether there are some surprises in store.
Folks should not think that all this is doom and gloom because what this does is merely elevate the Borneo bloc to the next stage of an eventual confrontation with interlopers from the peninsula.
It's just that the Malay uber alles bloc does not see it now. But they will. They will.
Sooner, rather than later, Hadi will get his Islamic state.
posted by Major D Swami (Retired) @ 9:11 AM

ARCHIVES
Previous Post
Indian Soldiers
World War 1
Links To Rangers
Military Related Links
End of a Saracen
East Malaysian
Warriors
Blow Pipe
xxxx
xxxx
Lieutenant Colonel
Zulkapli Abdul Rahman
Click Here
Lieutenant Colonel
Harbhajan Singh
Click Here
Heads from the Land
of the Head Hunters
Heads
20 Harrowing Images
Vietnam War
Creme De La Creme-Click here
Lt Col Idris Hassan
Royal Malay
Regiment
Click Here
Also Known as
General Half Track
Warriors
Dayak Warrior
Iban Tracker with
British Soldier
Showing the
British Trooper
what a jackfruit is!!
Iban Tracker
A British Trooper training
an Iban Tracker
Iban Tracker
Tracker explaining
to the British Soldier who
knows little about tracking
Iban Tracker
Explaining to the
British Trooper the meaning
of the marks on the leaf
Iban Tracker
Aussie admiring
Tracker's Tattoos
Lest We Forget Major Sabdin Ghani
Click Here
Captain Mohana Chandran
al Velayuthan (200402) SP
Ranger Bajau
ak Ladi PGB
Cpl Osman PGB
Advertistment
XXXXXXXX
Advertistment
XXXXXXXX
Advertistment
XXXXXXXX
Advertistment
XXXXXXXX
Advertistment
XXXXXXXX
Advertistment
XXXXXXXX
Advertistment
XXXXXXXX
Advertistment
Advertistment
XXXXXXXX
Advertistment
XXXXXXXX
Advertistment
XXXXXXXX
Advertistment
XXXXXXXX
Advertistment
XXXXXXXX
Advertistment
XXXXXXXX
Advertistment
XXXXXXXX
Advertistment
Advertistment
XXXXXXXX
Advertistment
XXXXXXXX
Advertistment
XXXXXXXX
Advertistment
XXXXXXXX
Advertistment
XXXXXXXX
Advertistment
XXXXXXXX
Advertistment
XXXXXXXX
Advertistment
XXXXXXXX
Advertistment
XXXXXXXX
Powered by