Fighting Seventh
Profile
Miscellaneous
No Atheists
In A Foxhole
Rudyard Kipling" "When you're left wounded on
Afganistan's plains and

the women come out to cut up what remains,
Just roll to your rifle

and blow out your brains,
And go to your God like a soldier"

General Douglas MacArthur" "We are not retreating. We are advancing in another direction."

"It is fatal to enter any war without the will to win it."
"Old soldiers never die; they just fade away.
"The soldier, above all other people, prays for peace,
for he must suffer and be the deepest wounds and scars of war."

"May God have mercy upon my enemies, because I won't ."
"The object of war is not to die for your country but to make the other bastard die for his.

"Nobody ever defended, there is only attack and attack and attack some more.
"It is foolish and wrong to mourn the men who died.
Rather we should thank God that such men lived.

The Soldier stood and faced God
Which must always come to pass
He hoped his shoes were shining
Just as bright as his brass
"Step forward you Soldier,
How shall I deal with you?

Have you always turned the other cheek?
To My Church have you been true?"
"No, Lord, I guess I ain't
Because those of us who carry guns
Can't always be a saint."

I've had to work on Sundays
And at times my talk was tough,
And sometimes I've been violent,
Because the world is awfully rough.
But, I never took a penny
That wasn't mine to keep.
Though I worked a lot of overtime
When the bills got just too steep,

The Soldier squared his shoulders and said
And I never passed a cry for help
Though at times I shook with fear,
And sometimes, God forgive me,
I've wept unmanly tears.
I know I don't deserve a place
Among the people here.

They never wanted me around
Except to calm their fears.
If you've a place for me here,
Lord, It needn't be so grand,
I never expected or had too much,
But if you don't, I'll understand."
There was silence all around the throne

Where the saints had often trod
As the Soldier waited quietly,
For the judgment of his God.
"Step forward now, you Soldier,
You've borne your burden well.
Walk peacefully on Heaven's streets,
You've done your time in Hell."

Proud To Have
Served With Warriors
Foreign Bloggers
&
Other Stuff
Gaming
Major D Swami

WITH Lt Col Ivan Lee
Click Here
Lt Col Ivan Lee
you want him with
you in a firefight!!!!
Dying Warrior
Condors-Infantry
Fighting Vehicles
xxxxxxxxxxxxxxx
Camp
Bujang Senang
Click Here
xxxxxxxx
The A Team
Click Here
xxxxxxxx
Major General
Toh Choon Siang
Click here
Lieutenant General
Stephen Mundaw
Click Here
With His
Dying Breath
Killed in Battle
In Death
Last Thoughts
Before Battle
Whilst There Is
Life, There Is Fight
Iban Trackers
XXXXXXXX
Facts On RoP
Hutang Negara
Advertistment
XXXXXXXX
Advertistment
XXXXXXXX
Advertistment
XXXXXXXX
Advertistment
XXXXXXXX
Advertistment
XXXXXXXX
Advertistment
XXXXXXXX
Advertistment
XXXXXXXX
Advertistment
XXXXXXXX
Advertistment
XXXXXXXX
Advertistment
XXXXXXXX
Advertistment
XXXXXXXX
Advertistment
XXXXXXXX
Advertistment
XXXXXXXX
Advertistment
Advertistment
XXXXXXXX
Advertistment
XXXXXXXX
Advertistment
XXXXXXXX
Advertistment
XXXXXXXX
Advertistment
XXXXXXXX
Harapan has a lousy partner in Umno By P Gunasegaram
Tuesday, January 17, 2023
Malaysiakini : "All information, documents and secret agenda must be uncovered. Azalina, this is your responsibility. If you fail, Umno will fail. If you succeed, the party rewards you," Zahid said.
Despite Azalina saying that the RCI was broader in nature than an investigation of Thomas' book, it is now obvious that Umno had pushed for it to make political capital for some of its leaders, including Zahid, as I explained in greater detail in an article last week questioning the need for an RCI specifically on the book.
Zahid had also in the assembly called on the judiciary to give former prime minister Najib Abdul Razak "fair justice" in his criminal trials, adding that Najib was a victim of political persecution.
By extension, that implies that Zahid, who faces 47 charges for corruption, was himself a victim of political persecution, as well as a number of other Umno personalities who faced criminal charges. Some of these charges have now been dropped. This is the Umno narrative that Harapan has helped perpetuate by agreeing to the RCI.

The question is, did Harapan expect this? Was it a willing accomplice to this misrepresentation of information to the public? And how will the general public react to such a stance and stunt by both Umno and Harapan? Surely this cannot be great for the public image of both parties, despite the cheers of delegates.
Blocking challenge to Umno leadership
And then there was the matter of yet again postponing the Umno party election. Umno Baru became a party highly controlled by its leaders when deliberate changes to the party constitution made it very difficult to launch a challenge to the party leadership.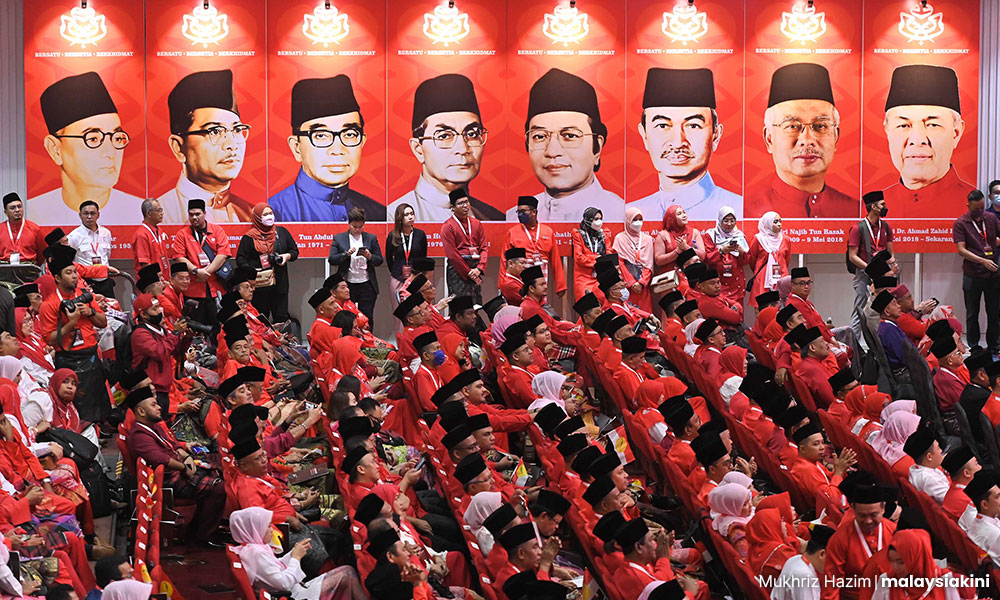 First, Dr Mahathir Mohamad (who initiated this when he formed Umno Baru after Umno was declared illegal in 1987), then Najib and Zahid himself, have used these lop-sided rules to maintain power with the help of the Societies Act 1966, which puts immense power in the hands of the Registrar of Societies (ROS) who has substantial discretion over interpretation of rules.
Also, past amendments to this Act have put decisions squarely on political parties when it comes to disputes. This is obvious from Section 18C of the Societies Act on the decision of a political party to be final and conclusive.
Section 18C reads: "The decision of a political party or any person authorised by it or by its constitution or rules or regulations made thereunder on the interpretation of its constitution, rules or regulations or on any matter relating to the affairs of the party shall be final and conclusive and such decision shall not be challenged, appealed against, reviewed, quashed or called in question in any court on any ground, and no court shall have jurisdiction to entertain or determine any suit, application, question or proceeding on any ground regarding the validity of such decision."
Thus, any challenge to this provision will have to be based on a violation of the Federal Constitution and will involve too much time, be too lengthy and need much effort in the courts. Thus the check and balance will have to fall on the ROS but under the circumstances, it looks like nothing will happen.
Former PM Ismail Sabri Yaakob opined that the decision to leave the party's top two positions uncontested can also be determined by the ROS and that any member can make a representation accordingly but added that he would not do it.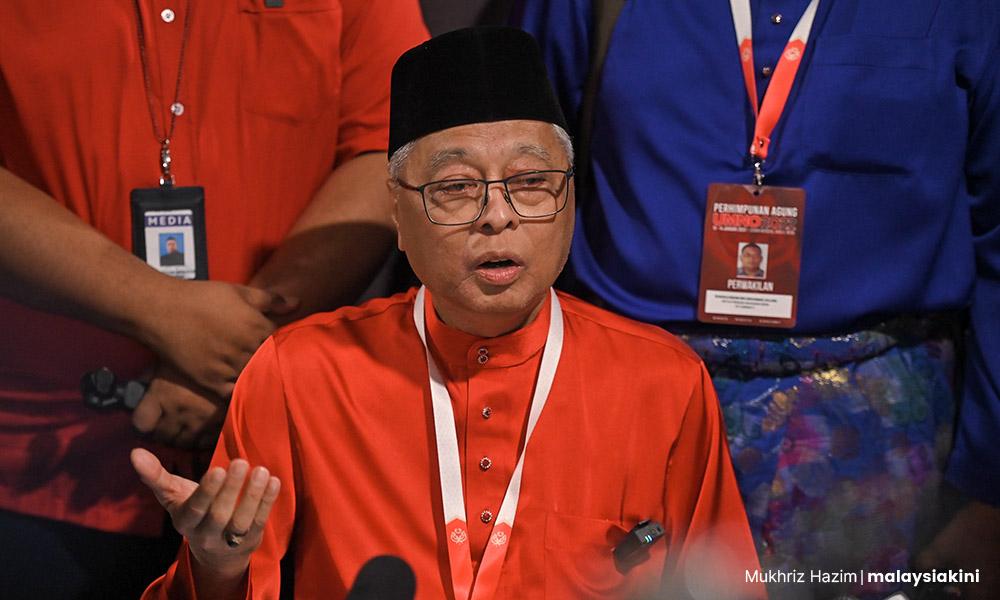 The Societies Act is long overdue for a change. It needs to clearly set out members' interests, especially for political parties, and to unambiguously specify that all political parties must have elections of key office bearers every three years without fail.
If the party's constitution says otherwise, then it must be changed. This measure would also wipe out money politics for it will be impossible to bribe over three million members. It's possible to sway a few thousand delegates with a few million ringgit. Also, it will force all political parties to show a valid membership list.
In fact, a leadership aspirant at the Umno general assembly, former health minister Khairy Jamaluddin, charged that phantom delegates were pushed in to ensure that the delegates' votes for no contests for the top two positions would be passed.
Without such a change in the law, Zahid will continue as president and Tok Mat as deputy from 2018 and for a further three-year term from this year, taking their term to 2026 - an unbroken term of eight years on one election with no polls in between!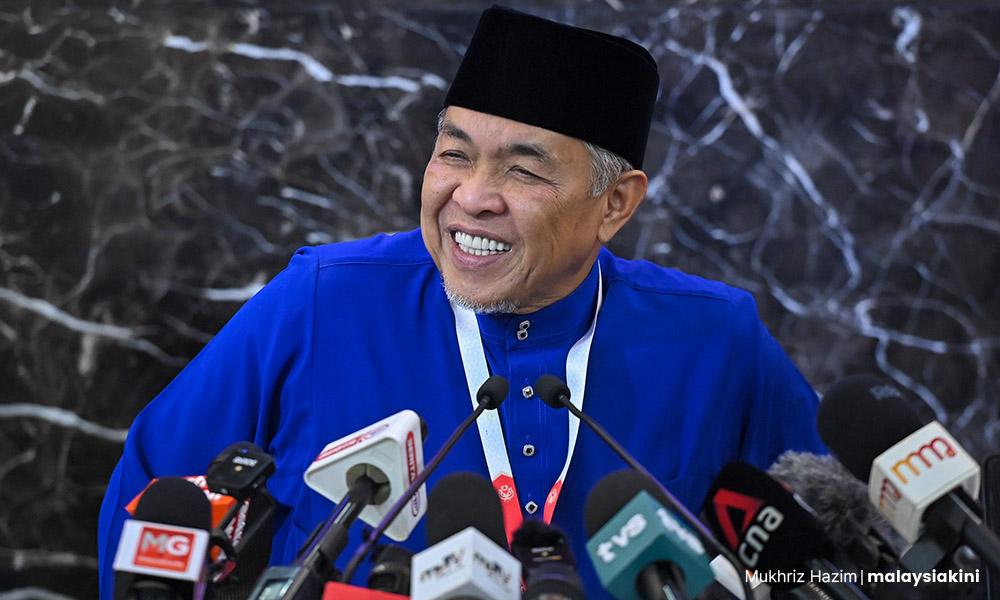 That is clearly a blatant abuse of due process to thwart democracy and free and fair elections in political parties and needs to be immediately halted by an appropriate ruling by the ROS and then a corresponding amendment to the Societies Act.
Will such a move come by? Going by Harapan's bending over backwards to accommodate Umno and its current apparently cosy co-existence with Umno to stay in power, neither the first nor the second move looks like it will happen, to the ultimate detriment of the rakyat and the two parties.
What this means is that Harapan, where party members elect major office bearers periodically, will be unfairly tied up with Umno which does not. It also means that Harapan and Umno will be different in their beliefs, aspirations and objectives as well as how they will achieve them.
Over time, those differences will prove to be too much. In the meantime, Harapan may well be advised to scout around to see which Malay-based party will be suitable for it or to go for it on their own.
Whichever path it chooses, it will be fraught with many obstacles, tangles and snags.
posted by Major D Swami (Retired) @ 10:54 AM

ARCHIVES
Previous Post
Indian Soldiers
World War 1
Links To Rangers
Military Related Links
End of a Saracen
East Malaysian
Warriors
Blow Pipe
xxxx
xxxx
Lieutenant Colonel
Zulkapli Abdul Rahman
Click Here
Lieutenant Colonel
Harbhajan Singh
Click Here
Heads from the Land
of the Head Hunters
Heads
20 Harrowing Images
Vietnam War
Creme De La Creme-Click here
Lt Col Idris Hassan
Royal Malay
Regiment
Click Here
Also Known as
General Half Track
Warriors
Dayak Warrior
Iban Tracker with
British Soldier
Showing the
British Trooper
what a jackfruit is!!
Iban Tracker
A British Trooper training
an Iban Tracker
Iban Tracker
Tracker explaining
to the British Soldier who
knows little about tracking
Iban Tracker
Explaining to the
British Trooper the meaning
of the marks on the leaf
Iban Tracker
Aussie admiring
Tracker's Tattoos
Lest We Forget Major Sabdin Ghani
Click Here
Captain Mohana Chandran
al Velayuthan (200402) SP
Ranger Bajau
ak Ladi PGB
Cpl Osman PGB
Advertistment
XXXXXXXX
Advertistment
XXXXXXXX
Advertistment
XXXXXXXX
Advertistment
XXXXXXXX
Advertistment
XXXXXXXX
Advertistment
XXXXXXXX
Advertistment
XXXXXXXX
Advertistment
Advertistment
XXXXXXXX
Advertistment
XXXXXXXX
Advertistment
XXXXXXXX
Advertistment
XXXXXXXX
Advertistment
XXXXXXXX
Advertistment
XXXXXXXX
Advertistment
XXXXXXXX
Advertistment
Advertistment
XXXXXXXX
Advertistment
XXXXXXXX
Advertistment
XXXXXXXX
Advertistment
XXXXXXXX
Advertistment
XXXXXXXX
Advertistment
XXXXXXXX
Advertistment
XXXXXXXX
Advertistment
XXXXXXXX
Advertistment
XXXXXXXX
Powered by