The fact that he was betrayed by the coterie he now claims are corrupt and untrustworthy points to the kind of politics that this establishment plays.
Muhyiddin knew the truth of the matter was that the DAP threat wasn't an issue with the Harapan government, which was why he offered an olive branch to the opposition hoping to save his post.
Muhyiddin knows that what he is claiming of PAS is complete bunkum. When he claims that PAS understands that they need to consider non-Muslim/non-Malay when they are in power, he knows it is a complete lie.
This is why Muhyiddin is attempting to hide PAS in the shadows. After all, if PAS was not such a threat to our multicultural, political and social ecosystem, why is it that Gerakan and Bersatu did not want to invite PAS to this Chinese plutocrat organised shindig?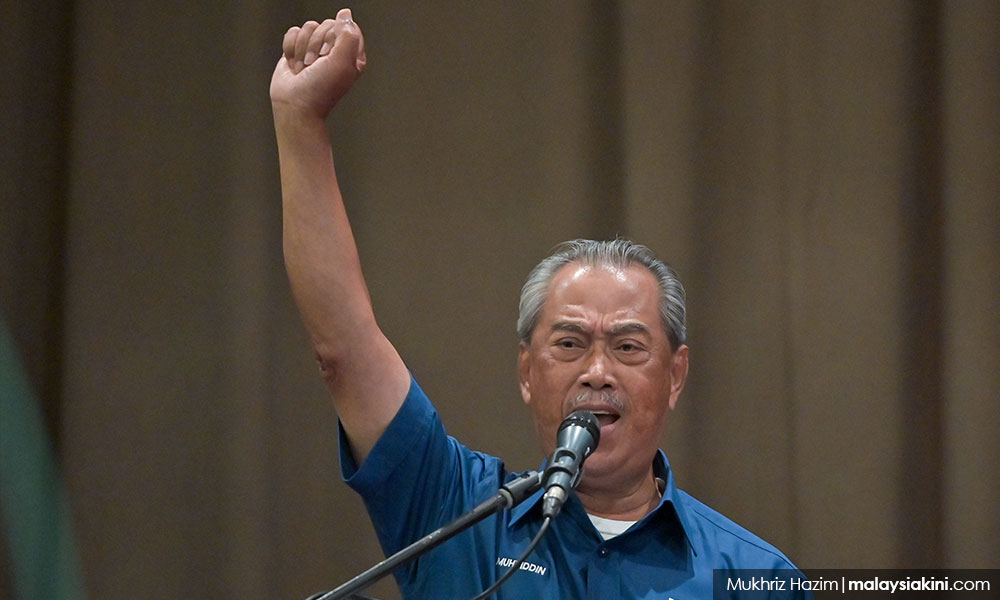 I mean the PAS president is a member of your coalition, right? Why doesn't he speak for PAS?
Why doesn't he say that his party "…. understand that they have to consider the Chinese, Malays, Indians, Muslims, Buddhists, Hindus - they have to take care of all of them"?
Why is it that the Bersatu president has to express all these political bromides as Hadi's proxy?
Could it be, because we know what Hadi really thinks of the Chinese, Indians, Buddhists and Hindus?
Let me refresh the former prime minister's memory. Hadi said: "Islam has to be the leader and ruler, those who are not of Islam must be followers (pak turut). Let's not place religion and politics in separate corners."
Umno thanking its lucky stars
Now keep in mind that when Bersatu talks about how being in government tempers the religiosity of PAS, this is demonstrably false.
Again we have to refer to the words of Hadi when he said: "Don't ask PAS to cooperate with you, when you will not make any change towards (prioritising) Islam, that is wrong.
"As long as the power of Islamic governance isn't upheld, then those who rule would not care about sin and reward, would rob the people's wealth and so on."
So all this talk of PN wanting to be pro-business, making lots of profit and all these other economic feel-good rhetoric, runs into the reality that PAS will always attempt to hamper such endeavours if they think they can get some sort of religious mileage out of obstructing.
Don't believe me, remember what Hadi said: "Islam places the economy as one of life's pillars but in the last place. This is so because of the Islamic concept that mankind is created to serve, carry out its teachings, go forth with what has been entrusted on earth and the afterlife."
Indeed if there was any merit to having PAS in the government, Muhyiddin would have listed out the achievements of those ministers or deputy ministers.
Instead what the former prime minister does is go on about "potong, potong" which merely means that non-Malays should be grateful that PAS is extreme but not as extreme as it could be. This is not a selling point for PN.
But wait, Johor Umno deputy chief has already listed out the achievements of PAS here. Nur Jazlan Mohamed said the Islamic party, which is contesting 15 seats, is bereft of ideas and all they talk about is polygamy and promoting ridiculous practices like saying husbands can beat their wives "lightly".
All PAS does in any coalition is create more problems for political operatives seeking the middle ground.
Indeed, Umno, which is just as ready to use religion as PAS, can do so without the baggage of having PAS going off message with its extreme religious preoccupations.
This is why Umno must be thanking its lucky stars that it is having a cold marriage with PAS, whatever that means.
Since PAS defines the religious discourse in this country and no other coalition wants to offer a different narrative, rational people should deny PAS as much political leverage as they can.
PAS certainly does not think it needs the Chinese community's vote otherwise they would be a semblance of reaching out to the community.